Dental Implants – Herndon, VA
Secure, Beautiful Tooth Replacement
When you lose teeth, you can face a number of daily inconveniences and challenges. For example, chewing properly may be difficult. You could become embarrassed in social situations. Your oral health may also suffer devastating consequences. Modern dentistry offers a number of ways to correct and prevent such problems, the most outstanding of which is dental implants in Herndon. If you are missing one or more teeth, Dr. Bakhtyari may recommend that you undergo this treatment in order to regain a complete, healthy smile. To learn more about this type of secure, beautiful tooth replacement, our dental office is just a phone call away!
Why Choose Premier Dental Care for Dental Implants?
In-House Periodontist Performs Dental Implant Placement
Dental Sedation Available
Most Dental Insurance Plans Accepted
What Are Dental Implants?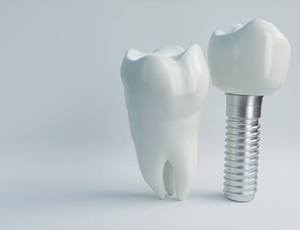 A dental implant is a titanium post that actually replaces the part of the tooth that you can't see. Once the implant is surgically positioned into your jaw, it fuses to the bone and tissues surrounding it. This process, called osseointegration, allows the implant to forge a powerful bond with your jaw that provides reliable support for your replacement teeth. After osseointegration is complete, we'll place metal abutments, onto which we can secure your custom crown, bridge, or denture – instantly completing your smile.
Dental implants are the only tooth replacement option that replicates the entire structure of a tooth. That's why most dentists, including Dr. B, believe that dental implants are by far the best option to rebuild smiles after tooth loss. We just can't recommend them enough!
The 4-Step Dental Implant Process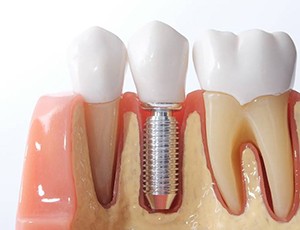 The process of receiving dental implants in Herndon is a lengthy one, but it's also one of the most rewarding and worthwhile investments you can make in your smile. While the typical timeline can take six months or more to complete, our team will ensure your missing teeth are replaced with beautiful, stable, and fully functional restorations that you will be able to enjoy for decades or more. Here are the four basic steps you can expect in the dental implant process.
Initial Dental Implant Consultation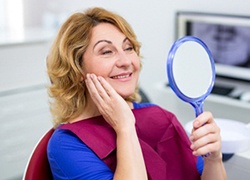 The initial stage of your dental implant process is to schedule a consultation with Dr. Bakhtyari. He will sit down and discuss your goals, as well as your overall health and medical history, and thoroughly examine your smile. After reviewing all the necessary information, he will determine if you are a qualified candidate for dental implants.
If there are any concerns about your jaw density, he may suggest a bone graft or sinus lift to add bone minerals to weakened areas, but if everything looks good, he will clear you for surgery after providing a clear, transparent, and comprehensive treatment plan.
As long as you and your dentist in Herndon are in agreement, the next step will be to take impressions of your smile, which will be sent to a dental laboratory where technicians will work to build your custom restorations.
Dental Implant Surgery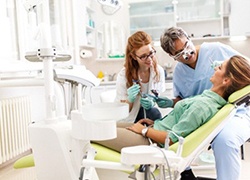 The actual surgery part of the process can vary in length, as it depends on how many implants you will be having placed. Whether you need one, multiple, or all your teeth replaced, our in-house periodontist, Dr. Refahi, will make incisions in the appropriate areas of your gums before carefully placing and positioning each dental implant into your jawbone. This will ensure a stable foundation. Once the implants are in place, the surgical areas will be closed, and surgery will be complete.
Dental Implant Osseointegration/Abutment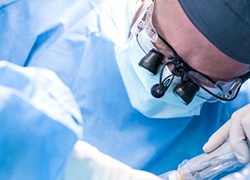 Once you are sent home after surgery, you will spend the next three to six months healing and allowing osseointegration to occur. This is the process of the implant(s) fusing to your bone and surrounding tissue. This must be successful in order for your implants to hold up and remain stable in the years to come. After this timeframe, you will return to our office to have abutments placed on each of the implants. These are small, metal appliances that connect the implant to the restoration.
Delivery of Dental Implant Restorations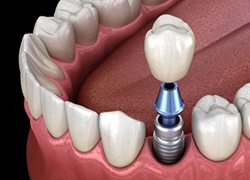 The final stage of the dental implant process is to receive your custom-made restoration(s). Lab technicians can create a dental crown, implant bridge, or implant denture, all of which can be matched to your natural tooth color, size, and shape so that it blends in beautifully with the rest of your smile. After looking it over and ensuring there are no issues with the prosthetic, Dr. Bakhtyari will place your restorations, allowing you to finally see a fully complete smile.
Benefits of Dental Implants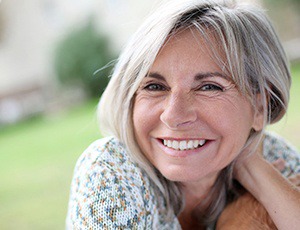 The benefits of dental implants in Herndon cannot be matched by other tooth replacement solutions. While fixed bridges and traditional dentures are capable of replicating the look of your smile, they cannot prevent facial collapse or remain firmly in place for a lifetime. Instead, by choosing dental implants to replace your missing teeth, you can expect to enjoy a longer-lasting smile that truly restores your teeth from the root to the crown, effectively leading to greater oral and overall health. At Premier Dental Care, Dr. Bakhtyari and his team are here to go over the many benefits you'll receive, some of which include:
Lifestyle Benefits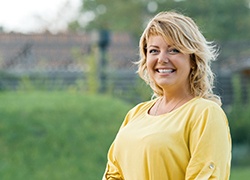 The ability to enjoy eating all your favorite foods. This includes even those that are hard in texture. Dentures can become easily damaged by these types of foods; however, dental implants are stable, reliable, and made from high-quality materials that can withstand regular wear and tear. Not to mention, you'll also be able to drink your favorite hot beverages and not worry about your prosthetic warping.
The chance to embrace a prosthetic that fuses with your jawbone and surrounding tissue. As a result, your implant posts will adhere to your oral cavity and create a solid, firm foundation for your implants and custom restoration. In other words, your dental implants should never fall out or slip as long as you take proper care of them
The opportunity to possess greater confidence and embrace a better quality of life. It is believed that most people who wear dentures do not share their secret out of fear of embarrassment, nor do they tend to enjoy attending social gatherings. With dental implants in Herndon, however, you can feel comfortable talking with others and enjoy the look your smile can give you.
Health Benefits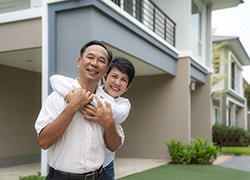 According to the Centers for Disease Control and Prevention (CDC), about one-quarter (26%) of adults ages 65 and older have 8 or fewer teeth. By choosing to replace your missing teeth, not only are you minimizing your risk for serious oral and overall health problems but as a result, you are also helping to extend your lifespan.
Because your implants are surgically placed into your jawbone and fuse through the process of osseointegration, you will not have to worry about facial collapse. Denture-wearers, on the other hand, must rely solely on natural suction to hold the prosthetic in place. It offers no stimulation to the bone, which will only deteriorate over time.
You will have greater oral health simply because cleaning dental implants is much easier and less time-consuming than if you had a fixed bridge or traditional denture.
Long-Term Benefits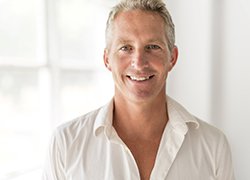 It is not uncommon for the success rate of dental implant placement to be around 98%, especially if you see a qualified implant dentist in Herndon.
After 10 years, with proper care and maintenance, you can expect this success rate to fall between 90-95%!
Your dental implants are designed to last a lifetime. It takes work and commitment to proper oral hygiene to make this happen, but you may never need to have your posts ever replaced.
Your wallet and bank account will thank you in the long run because your hard-earned money will not need to go toward relining or replacing, nor will you be required to be dental adhesive or additional cleaning supplies.
Who Dental Implants Can Help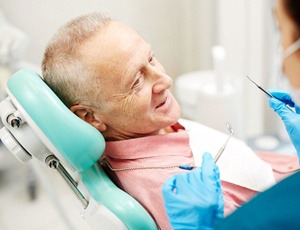 Whether you are missing only one tooth, a few teeth, or all of your teeth, there's a suitable way for our team to rebuild your smile with dental implants. At your consultation, we'll be able to determine your eligibility for this treatment and which implant option is right for you. It's worth mentioning that most adults who have good general and oral health qualify for dental implants, but we'll discuss the details during your appointment.
Who Is a Good Candidate for Dental Implants?
When you visit us for an initial dental implant consultation, you can expect your dental implant dentist in Herndon to closely examine your mouth and look for a few qualities that make you a good candidate for this method of tooth replacement. These include:
Decent oral and overall health – You must be in good enough condition to undergo a minor surgery and be free of oral health issues such as gum disease or tooth decay.
A strong, healthy jawbone – Without enough jawbone density, your implants will not be able to fuse and create a sturdy foundation for your new teeth. If your jawbone needs building up, we may recommend a bone grafting procedure.
A commitment to taking good care of your dental implants – Your implants will only last if you quit bad habits like tobacco use and excessive alcohol consumption. Additionally, you'll have to be dedicated to cleaning your implants and restorations daily and visiting our dental office for checkups at least twice a year.
Even if you don't meet all of these qualifications right now, you might still be a good candidate for dental implants. In many cases, you can become eligible if you undergo preliminary procedures first, such as periodontal therapy to treat gum disease.
Once your mouth is ready to accommodate dental implants, we can discuss the specific type of implant treatment you'll be going through. Dental implants in Herndon are versatile enough to address all degrees of tooth loss, including:
Missing One Tooth
More than 120 million people in the U.S. have lost at least one permanent tooth, according to the American College of Prosthodontists. Many of these people choose to fill the gap with a dental bridge, which requires the two adjacent teeth to be filed down in order to support the prosthetic. With a single tooth dental implant, however, you can preserve your natural tooth structure. An implant post is surgically inserted into the socket and topped with a lifelike dental crown, filling the empty space while keeping your remaining teeth intact.
Missing Multiple Teeth
No matter how you lost several teeth, there's a dental implant solution for you. If your missing teeth are consecutive, we can place an implant at either end of the space and use a custom-made dental bridge to literally "bridge" the gap. For missing teeth located throughout the mouth, we can use a small number of implant posts to support a partial denture. Both of these options are more reliable and long-lasting than their traditional counterparts.
Missing All Teeth
If you are missing all of your teeth, Dr. Bakhtyari can design an implant denture for you. Your prosthetic may be permanently fixed in place, or it may be a removable device that simply snaps onto the implants. It typically takes between four and six strategically placed implants to support a full denture. Because implant dentures are anchored onto posts in your jaw, they eliminate the slippage, gum irritation, and all of the other inconveniences of conventional dentures.
Understanding the Cost of Dental Implants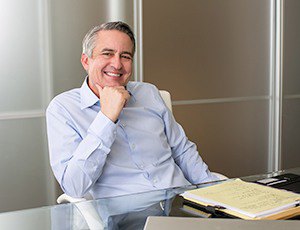 The cost of dental implants in Herndon varies from patient to patient. Preliminary dental work, placement surgery, the parts of the implant, and the restoration phase all come with separate prices. The overall cost of your procedure will also depend on how many implants you need and the exact nature of your restoration.
When you visit us for your consultation, we can give you a concrete estimate of how much your treatment will cost. We'll also help you explore resources that may help you afford your procedure, such as insurance or financing. Although dental implants cost more than alternative treatments, they offer an outstanding value. Their longevity, beauty, and benefits to your oral health make them a truly worthwhile investment.
Preliminary Treatments & Dental Implant Surgery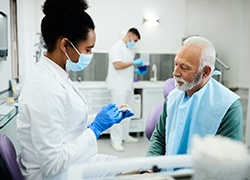 It may be necessary for you to undergo preliminary treatment before receiving your dental implants in Herndon. During your initial consultation, we will examine your oral cavity to determine if you need periodontal therapy, tooth extraction, or bone grafting, each of which will add to the timeline of treatment as well as the overall cost. However, the results will ensure a more successful placement of your dental implants later on.
Your dental implant surgery will also be factored into the total cost. With an in-house periodontist performing your oral surgery onsite, this minimizes confusion when it comes to paying for treatment since you won't need to pay a separate fee for this service.
The Parts of Your Dental Implant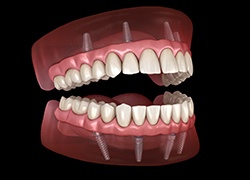 When meeting with your implant dentist in Herndon, you will discover that the parts of your implant also factor into the total cost of your treatment. These include:
How many implants you will need – The more implant posts you need, the higher your treatment will cost. Naturally, a single titanium post will cost much less than 4 or 8 used to replace an entire arch of teeth.
The materials used – Titanium is the most popular choice for dental implant material; however, many dentists also use zirconia for individuals who may have metal sensitivities.
The type of restoration – Implant crowns, bridges, and dentures are all possible restorations you can receive. Because it costs less and requires minimal time to create a crown, it is the most affordable option of the three.
The brand – Our team at Premier Dental Care determines the brand of dental implants used in-house. However, you can expect us to go over the reason for this selection and why higher quality materials are always better than cheaper solutions that won't last as long.
How Dental Implants Can Save You Money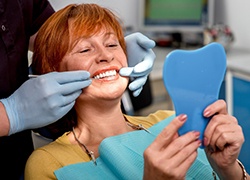 Saving money is important when it comes to investing in your smile; however, you don't want to cut corners when choosing dental implants. You'll be pleased to know that while the upfront cost is high, you'll actually save money in the long run. Here's how:
You won't need denture adhesives to keep your prosthetics in place.
You won't require special cleaners to maintain your prosthetics.
You won't need to see your implant dentist every 5-10 years for an adjustment or replacement.
You won't spend money to treat systemic issues commonly caused by tooth loss. Osteoporosis, diabetes, and heart disease are extremely common and can all shorten your lifespan if you're not careful.
Does My Dental Insurance Cover Dental Implants?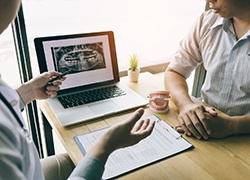 Some dental insurance companies are now beginning to provide some form of coverage for dental implants in Herndon; however, most still do not. As a result, our team will work to identify alternative ways you can pay. We'll also review your policy to check for any potential services they may agree to cover, such as your preliminary treatments and/or your customized restoration. No matter how your insurer chooses to handle the claim, we will be happy to work on your behalf.
Dental Implant FAQs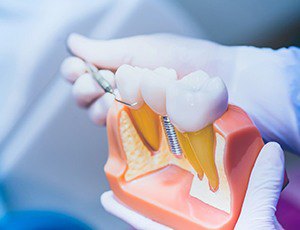 If dental implants in Herndon are what you are envisioning to replace your missing teeth, the team at Premier Dental Care is ready to answer your questions, address your concerns, and establish a treatment plan that will get you the smile you deserve. Taking this kind of step in your oral health journey often means spending time learning more about the process, which is why we've compiled some common questions asked by previous patients. If you have additional questions or would like to schedule an appointment, please don't hesitate to contact our office.
Will dental implants restrict what types of food I can eat?
One of the greatest benefits that come with dental implants is the ability to eat the foods you love. Your implant dentist in Herndon may suggest avoiding hard or crunchy foods, as these can damage both real and artificial teeth, but you will certainly not be restricted like you would be with traditional dentures. Dental implants function just like regular teeth, so you won't have to worry about them slipping or falling out while trying to enjoy your favorite meal.
Will it be painful to receive dental implants?
The process of receiving your dental implants should not leave you in pain. You will receive anesthesia and/or sedation, making you much more relaxed and comfortable throughout the surgical procedure. Afterward, you can expect to feel some soreness, tenderness, and even discomfort, but you will be able to use over-the-counter medication to relieve any pain. It is also advised that you use a cold compress to minimize swelling during this time.
Will I need a bone graft or sinus lift before getting dental implants?
During your initial consultation with your implant dentist, they will examine your oral cavity and facial structure. Part of this process includes evaluating your jawbone density. If it proves too weak, you will be recommended for a bone graft or sinus lift. These procedures involve placing grafting minerals into the deteriorated areas of your jawbone and allowing it to strengthen over several months. Once your jawbone is stronger and can provide a stable base, you can then move forward with your dental implant placement.
Can I switch from dentures to dental implants?
Ultimately, this is the decision of Dr. Bakhtyari. It is not uncommon for denture-wearers to become tired of their removable fixture and instead, opt for a more permanent solution. To switch from dentures to dental implants, he will need to examine your gums, bone, and oral health to determine if you are eligible for treatment. It may take you longer to achieve a fully restored smile with implants, especially if you are required to undergo a bone graft. However, once your implants are in place, you will be pleased with the results.
It is important that if you plan to make the switch that you have good general oral health, do not smoke or use tobacco, do not drink alcohol in excess, and that you do not have an autoimmune disease. These can negatively impact the success of your implants and ultimately cause them to fail because they cannot adequately fuse with your bone and surrounding tissues.