Invisalign – Herndon, VA
Custom-Made Aligners For a Healthier Smile
Have you always wanted a straight, beautiful smile? You have considered braces in the past, but you do not want to draw more attention by adding brackets and wires. You are not out of options. Now, you can get the results you want with a nearly invisible solution. Dr. Farshad Bakhtyari will help you align your teeth and bite with Invisalign in Herndon. In as little as one year, you will have a flawless smile without using metal braces.
How Does Invisalign Work?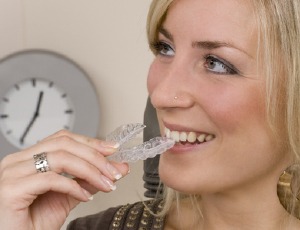 Often, it is believed orthodontics is only for children. This is largely due to the juvenile appearance that brackets and wires create; however, you are never too old for a straight smile. Now, 1 in 5 orthodontic patients is over the age of 18. More adults than ever are choosing to align their teeth due to new treatment options, like Invisalign.
Instead of using brackets and wires to pull the teeth into position, clear aligners gradually move them. The FDA-approved system uses digital impressions of your mouth to create a roadmap to reposition them. This also allows you to see what your new smile will look like even before you commit to the treatment.
Using the impressions, he designs a series of aligners, which you will wear for at least 22 hours per day. Each one is worn for 1 to 2 weeks depending on Dr. Bakhtyari's advice. Your teeth will be repositioned as you progress through the series.
On average, it takes about 12 months to finish the series. At the end of your treatment, you will briefly require a retainer to prevent your teeth from moving back into their previous positions.
Indications for Invisalign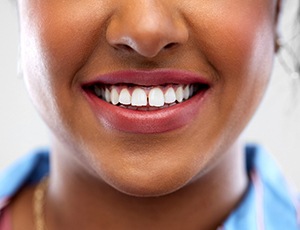 As one of the most versatile orthodontic treatments available, Invisalign fixes overcrowding, spaces between teeth, and bite alignment issues.
Crowded Teeth
If your teeth appear to be too close together, you will have difficulty brushing and flossing, thus, keeping decay and disease away. Invisalign will generate the necessary space by shifting your teeth into a more appropriate position.
Spaces Between Teeth
Should your teeth appear to have too much space between them, this, too, can cause food particles and bacteria to become trapped. Your risk for gum disease and tooth decay will increase as a result. Fortunately, Invisalign aligners will move your teeth in a way that closes the gaps and brings your smile into proper alignment.
Bite Alignment
Overbites, underbites, crossbites, and even open bites can all be remedied with Invisalign. Your clean aligners will shift and move your mouth to ensure your teeth properly align and no longer experience excessive wear and tear.
What Are the Benefits of Invisalign?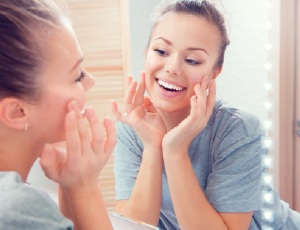 As a discreet and sophisticated solution, more than 2.5 million people across the world have made the choice to benefit from Invisalign. When compared to traditional braces, the clear aligners provide many advantages, including:
Nearly invisible.
96% satisfaction rate.
Smooth aligners provide added comfort and reduced irritation.
Fewer appointments with your dentist because you do not need wire adjustments.
Quick, lasting results.
Easy oral hygiene because there are no brackets and wires to clean around.
Simple daily care for the aligners.
No restrictions on your diet because Invisalign is removable.
Confidence when speaking and smiling because the aligners offer a secure fit.
Effective for correcting several bite and alignment issues.
Understanding the Cost of Invisalign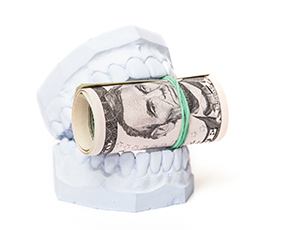 No two patients are alike, which is why it is necessary that you schedule a consultation with Dr. Bakhtyari to determine the cost of Invisalign in Herndon. Whether you're dealing with overcrowding, gapped teeth, or bite misalignment, various factors must be considered to better understand your dental problem and what it will take to fix it. One thing you can be certain of is that with Invisalign, you will achieve the healthy, beautiful results you desire. As you navigate these early stages of orthodontic research, spend a few moments reviewing the cost associated with these clear aligners. If you have any questions, do not hesitate to contact our office.
Factors that Affect the Cost of Invisalign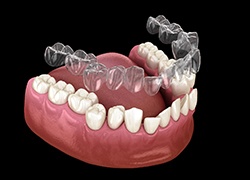 While it would be nice to pinpoint an exact number for the cost of Invisalign, the truth is that it can vary from person to person. Based on various factors, the amount you spend on your new smile will be determined by the following:
Top, Bottom, or Both? Do you need Invisalign aligners for one arch or both? Naturally, it will cost much less if you're only fixing one, but if you need to straighten both, we've got you covered.
Complexity of Treatment – The severity of your dental problem can largely dictate how much you can expect your treatment to cost. For example, closing a small gap between your two upper front teeth will cost much less than realigning an overbite.
Timeline for Results – Not all patients are given the same timeline when wearing Invisalign in Herndon. The amount of time you'll need to wear your aligners can be a factor in the overall cost of treatment.
Invisalign vs. Smile Direct Club™: Which Costs More?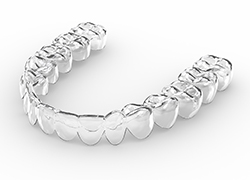 If you've turned on the TV recently, you've probably seen advertisements for Smile Direct Club. This do-it-yourself (DIY) method of orthodontic treatment is certainly appealing with its $2,000 price tag, as opposed to what Invisalign costs, which is typically anywhere from $3,000 to $8,000. However, before you pick up the phone to "Call Now," you may want to ask yourself, "Is this really the best solution for me?"
The truth is that these DIY aligner systems may cost less, but they can cause many problems to arise. Not only are you responsible for capturing accurate impressions of your teeth, but you're on your own when it comes to navigating the treatment process. You may receive instructions, but if a problem occurs, there is no orthodontist for you to see. Because there is no oversight from a professional, you may discover that you need the help of a licensed Invisalign dentist in Herndon to help anyway.
This is why choosing Invisalign from the start is so important. From the step-by-step instructions you'll receive from our team at Premier Dental Care to the reassurance of knowing that your smile is in trusted hands, you can expect a smoother, more enjoyable treatment.
Does Dental Insurance Cover Invisalign?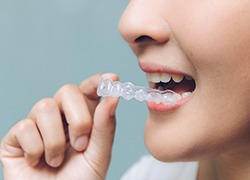 It is true that every dental insurance plan is different. While some may offer coverage for orthodontics, they likely have stipulations as to the age of the patient and the type of braces received. If you discover that your dental insurance company does not offer coverage for Invisalign, do not worry, as there are alternative ways to pay. Do you have a Flexible Spending Account (FSA)? If so, you may be able to use it to help pay for some of the costs associated with your Invisalign treatment.
Options for Making Invisalign Affordable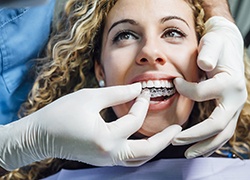 One way that Dr. Bahktyari is making Invisalign more affordable is by offering a FREE Invisalign consultation! Also, if you plan to commit to treatment and agree to start the same day as your consultation, you will receive $1,000 off your Invisalign aligners!
Choose the Clear Choice Today!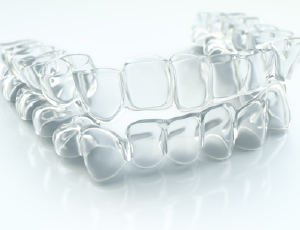 You do not have to live with an imperfect smile. You can improve your confidence and your oral health by choosing Invisalign. Your cosmetic dentist in Herndon will create the customized treatment plan you need to benefit from the clear choice in orthodontics. Contact Premier Dental Care, PC today to see if Invisalign is right for you.
Invisalign FAQs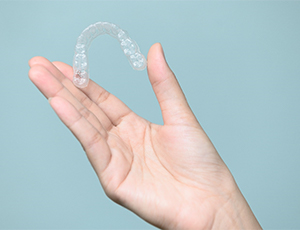 Do you have questions about Invisalign in Herndon? Are you hoping to straighten your teeth with these unique clear aligners but aren't sure if you're a qualified candidate? Dr. Bakhtyari wants you to feel comfortable and confident about your decision to choose Invisalign, which is why he has compiled some frequently asked questions that should help put your mind at ease and offer greater clarification. If you have additional questions, please don't hesitate to contact us.
How do I know if I'm a good candidate for Invisalign?
The only way you will know if you are a good candidate for Invisalign is by scheduling a consultation with Dr. Bakhtyari. As your cosmetic dentist in Herndon, he will be able to evaluate and examine your smile and determine if these clear aligners will help you achieve your desired results. Naturally, this determination is based on a few different factors:
Your age
Complexity of your orthodontic problem
Desire to achieve results quickly
Are committed to the process of wearing your aligners 20-22 hours each day
Prefer treatment that doesn't compromise your daily appearance
Is Invisalign painful?
Since it is required that you switch out your trays every 1-2 weeks, you can expect to experience some minor discomfort. The reason is that your teeth will begin to shift in an effort to comfort to the new mold that is putting your smile one step closer to its desired position. After a few days, you should feel no pain or discomfort and will return to a more comfortable experience with Invisalign aligners.
Will there be any surprises along the way while wearing Invisalign?
Fortunately, with the technology used to create and map your smile sequence, our team is aware of what your smile needs in order to achieve long-lasting results. As long as you remain committed to the process and avoid losing or damaging an aligner, you should stay right on track with your treatment plan, reducing and/or eliminating any possible surprises along the way.
What should I do to keep my aligners clean?
All you need to keep your aligners clean is a toothbrush, clear soap, and lukewarm water. Hot water can warp the plastic, so always make sure you're cleaning them the right way. While yes, you can purchase the Invisalign Cleaning System, it is not entirely necessary. If you opt for the traditional toothbrush and clear soap method, just make sure you're cleaning them thoroughly to remove dried saliva and harmful bacteria, so it doesn't transfer onto your natural, healthy teeth.
What should I do if I lose or damage an aligner?
If you forget to place your aligners in your protective case, or if you use hot water to clean your trays and find that the plastic is warped, you will need to call our office as soon as possible. Depending on where you in your treatment, you may need to revert back to wearing your previous trays until new ones are created for you. By alerting us to the situation, this will prevent a serious delay in your treatment.
Will I need a retainer after I'm finished with treatment?
Yes, you will need to wear a retainer for a brief amount of time after you complete your Invisalign treatment. The reason is that your teeth can easily shift back into their original spot if you're not careful. By having a retainer, this keeps your teeth in their new location and allows for your mouth to remain properly aligned for longer.
Will insurance pay for Invisalign treatment?
Depending on your individual insurance company, they may or may not pay for treatment. There are some companies who are now beginning to realize the importance and necessity that Invisalign can provide to certain individuals; however, others view it as a sole "want," not a "need." While Invisalign does tend to cost more than traditional metal braces, there are ways to ensure you can afford this type of treatment without falling into the red on your bank account.
If you're unsure of how to go about applying for certain payment programs, our team will be happy to assist in making sure you're signed up and ready to go before treatment begins.
Can I be treated with Invisalign if I've worn braces in the past?
Yes! If you wore traditional metal braces in high school and are now a working professional in your mid-30s, you can certainly realign your smile with Invisalign. Offering a more subtle and discreet way to address your orthodontic problem, you don't' have to worry about compromising your daily appearance with these clear, plastic aligners.