Implant-Retained Dentures – Herndon, VA
Completely Rebuild Your Lost Smile
Extensive tooth loss can make it difficult or even impossible to enjoy your favorite foods with gusto and smile with confidence. While traditional dentures can restore some oral function, many patients opt for a better alternative — implant-retained dentures in Herndon. This treatment is able to provide complete, secure, and long-lasting tooth replacement. Our team is proud to have the experience and skill necessary to perform the entire dental implant procedure in-house. When you are ready to rebuild your lost smile, contact Premier Dental Care to schedule your consultation.
How Do Implant-Retained Dentures Work?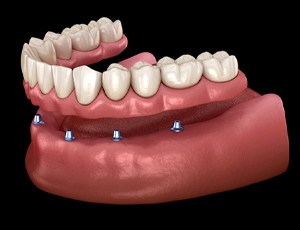 Implant-retained dentures are similar to traditional dentures in that both types of prosthetics include a gum-colored base and an entire row of artificial teeth. However, instead of relying on suction or adhesive to remain in place, implant-retained dentures are anchored in the jawbone via a number of strategically placed dental implants. The implants provide the prosthetic with outstanding stability.
There are basically two types of implant-retained dentures: overdentures, which are removable and "snap" onto and off of the implants, and dentures that are permanently attached to the implants. When you visit us for your consultation, we'll discuss which type of prosthetic is right for you.
Am I A Candidate for Implant-Retained Dentures?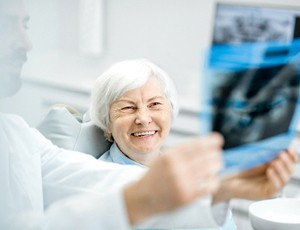 It is likely you are a candidate for implant-retained dentures if:
You have adequate bone density in your jaw to support dental implants
You have lost all or most of your natural teeth
You are free of gum disease and other health conditions that might compromise your implants' chances of success
You are tired of dealing with the hassles of your traditional dentures and want a more secure alternative.
Even if you are not an ideal candidate for implant-retained dentures right now, we may be able to provide treatment that will make you a candidate in the near future.
The Implant-Retained Dentures Procedure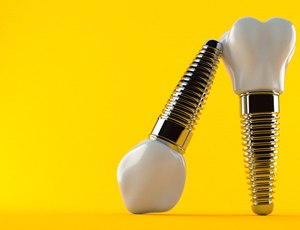 After you undergo any necessary preparatory treatment, such as bone grafts or gum disease treatment, the dental implants will be placed in your jawbone. The number of implants necessary varies from person to person and depends on several factors. After the implants are inserted, your bone will begin to fuse with them in a process known as osseointegration. Osseointegration may take several months; when it is complete, the dental implants will be able to serve as artificial tooth roots. Finally, we will design a prosthetic to go on top of your implants and replace the visible portion of your lost teeth.
Benefits Of Combining Dentures & Dental Implants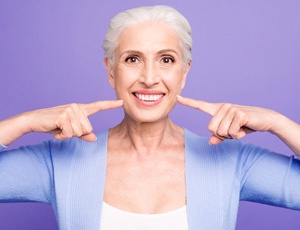 Implant-retained dentures offer some outstanding benefits:
Dental implants in Herndon stimulate the jawbone and prevent the deterioration that usually occurs after tooth loss.
A traditional denture does not maintain its fit due to changes in the jaw structure. An implant-retained denture, on the other hand, will fit well for many years.
An implant-retained denture provides a bite force that rivals that of natural teeth.
You can care for permanently placed implant-retained dentures in almost the same way that you would care for natural teeth.
Dental implants have the potential to last for several decades — perhaps even for a lifetime!