Dentures & Partial Dentures – Herndon, VA
Rebuilding Smiles with Timeless Solutions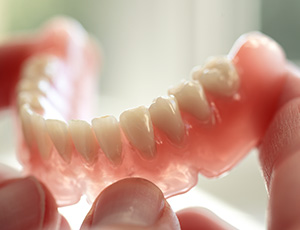 Dentures are removable, prosthetic dental appliances (sometimes known as false teeth) that are fabricated in a dental laboratory for patients that have suffered tooth loss due to any number of reasons. Dentures in Herndon are commonly prescribed and utilized to replace missing teeth and the surrounding tissues. They are custom-crafted in hundreds of shapes and tooth colors to resemble your natural teeth so closely that most casual observers cannot tell you are wearing them. At Premier Dental Care, Dr. Bakhtyari will help you choose the right denture solution for you, making sure you are pleased with the results and understand how to extend the longevity of your new smile. Contact us today to find out more about dentures and what they can do for you.
Why Replace Missing Teeth?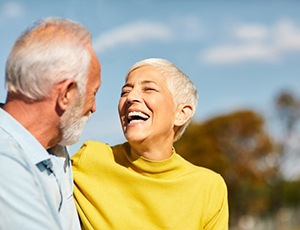 Missing teeth can wreak havoc on your smile. Not only will you feel more self-conscious but over time, you will begin to lose valuable bone, causing your natural teeth to become loose and potentially fall out. You will also notice a change in your facial shape because of the lack of support provided by your jawbone. Fortunately, with dentures, you can embrace a more youthful appearance with a solution that offers greater aesthetic appeal and functionality. Additionally, dentures help improve natural chewing and speaking ability, provide support for the lips and cheeks, and even enhance your natural smile.
What Are My Treatment Options?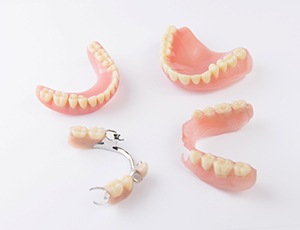 There are two commonly prescribed types of dentures: complete dentures and removable partial dentures. There are also implant-retained dentures for individuals who prefer a more stable and permanent solution.
Dentures are extremely durable appliances and will benefit the wearer for many years. However, as with many dental appliances, dentures are not indelible and may have to be repaired, adjusted, or re-fabricated at some point in the future. A proper denture fitting may involve a few appointments to Premier Dental Care. Dr. Bakhtyari insists that all of his patients receive highly accurate measurements and impressions (molds) that are used to create your custom-crafted denture. A "fitting" appointment and some adjustments may be necessary to ensure a proper, comfortable denture match. During your denture fitting appointment, Dr. Bakhtyari will give you special care instructions for your new dental appliance. Regular brushing, flossing, and dental visits will add life to your teeth and any dental restorations, as well as increase the life of your dentures.
Removable Partials
Removable partial dentures are recommended to fill in the spaces created by missing teeth when some of the natural teeth remain. Partial dentures also help prevent other teeth from shifting and impacting the natural mouth shape. Made out of a gum-colored acrylic base, artificial teeth are placed into the designated areas of the prosthetic, working as a puzzle piece when put into place. The partial is then held into place using metal clasps or clips that attach to your natural teeth.
Complete Dentures
Complete dentures are utilized in cases where all of the teeth are missing. No matter if it is the top or bottom arch, a complete denture can be crafted using the same materials as a partial, except you will not need metal clasps or clips. Instead, your natural suction will be enough to keep your denture from falling out of place. Although, many patients prefer to keep denture adhesive on hand should they desire greater security.
Implant-Retained
An implant-retained denture is another solution that is different from a complete or partial denture. Surgically placed into your jawbone, it offers permanence and greater stability, allowing you to move throughout your day without needing denture adhesive. You also do not have to worry about removing your denture at night, as it will be permanently affixed to your implants.
The Cost of Partials and Dentures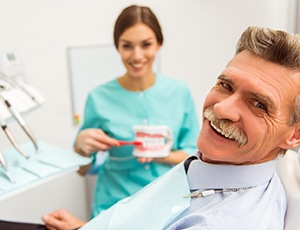 Before you can determine if dentures are an affordable option, your dentist in Herndon will need to answer a few questions regarding your treatment. Once you know how many teeth you'll need to have replaced, if you require any pre-denture dental work (i.e., tooth extraction), the type of restoration you'll receive, and whether you prefer implants, you can feel more confident in making the right decision for your smile.
All of these factors play a part in determining the overall cost of your treatment. Not to mention, you'll need to decide if you plan to use dental insurance to pay for a portion of the cost. It's not uncommon for most policies to cover up to 50%, but you should be mindful to review your policy first.
Benefits of Partials and Dentures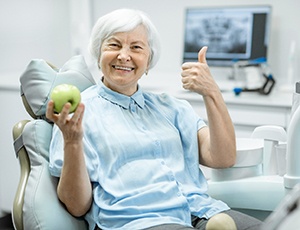 Affordable: Complete and removable partial dentures are a cost-effective solution when it comes to replacing your missing teeth.
Pleasing Aesthetic: Made to look completely natural, dentures offer a way to restore your smile and enhance your overall appearance.
Easy to Clean: These prosthetics are easy to remove and clean. You'll even leave them out to soak at night while you sleep.
Greater Functionality: With dentures, you'll be able to eat and speak easier than when you were living with missing teeth, giving you greater confidence and the ability to enjoy time spent with family, friends, and colleagues.