Emergency Dentist — Herndon, VA
Urgent Dental Care When You Need It Most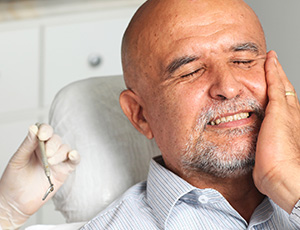 Dental injuries and severe oral pain can strike at any time, and often when it's very inconvenient. At Premier Dental Care, our patients can rely on us to make time for them in emergencies, why is why we are pleased to offer emergency dentistry in Herndon. Please contact us right away for assistance, either over the phone and in-person. Our team will review your condition, provide immediate relief, and help you determine the next steps towards rebuilding your smile's function and appearance.
Why Choose Premier Dental Care for Emergency Dental Care?
Same-Day Emergency Appointments
Advanced Dental Technology
Calming Dental Sedation Available
What to Do in a Dental Emergency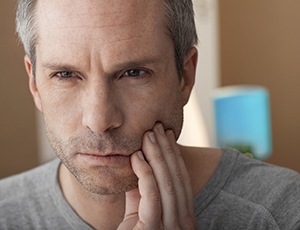 Contact our office. If you ever find yourself experiencing a dental emergency in Herndon, give our team a call right away. We'll schedule you in as soon as possible, likely the same day as your injury. Over the phone, we'll provide first aid instructions to help you manage your situation in the meantime.
Have an emergency exam. When you come into the office, our team will thoroughly evaluate the issue to determine the root cause. Based on our findings, we'll capture necessary X-rays and create a custom treatment plan to get your oral health back on the right track.
Get the care you need. Our team will work quickly to get you the prompt relief you deserve. Some common solutions for dental emergencies include fillings, dental crowns, root canal therapy, and extraction.
The Most Common Dental Emergencies
When a dental emergency occurs, you need to know what to do until you can reach our office. Whether it happens quickly or is a slow progression, being prepared is crucial. To help you feel more confident about addressing these concerns at home, here are a few tips to handling common dental emergencies:
Understanding the Cost of Dental Emergencies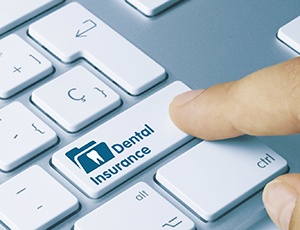 Most dental insurance companies understand that accidents happen, but the level of coverage you will receive depends on the type of restorative care you need. You must review your individual plan to determine how much your insurer will cover for minor and major restorative services. If you need assistance, our dental team will be happy to work on your behalf to get you the answers you need, so you can make the best decision about your dental health. If necessary, we can help you with financing and additional payment options, so you can still receive the care you need without worrying about the financial aspect of your treatment.
How to Prevent Dental Emergencies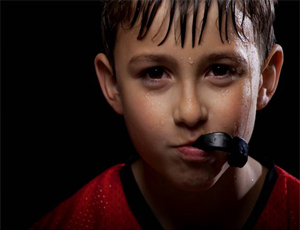 Dr. Bakhtyari and his team are always here in case you have a dental emergency. However, rather than treat an emergency, we'd much rather prevent one from happening in the first place. Between sports, stress, and other life events and obligations, accidents can happy any time, any place. To ensure that everyone you love enjoys their pearly whites and beautiful smile for as long as possible, let's discuss a few steps you can take to prevent dental emergencies in Herndon. If you have any questions, don't hesitate to contact our dental office.
Continue to See Your Dentist for Regular Checkups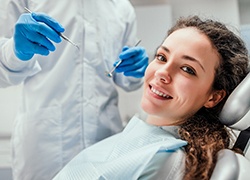 Make sure you and your family are sticking to a schedule of regular dental checkups every six months. During these visits, Dr. Bakhtyari will examine your teeth, looking for developing problems such as a cracked tooth or infection that is only visible on an X-ray. Treating these issues sooner rather than later can fend off an emergency and is likely to cost less than urgent care.
Adopt a Good Oral Hygiene Routine at Home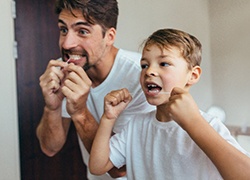 In-between your dental checkups and cleanings, you'll need to make sure your family is keeping up with their oral hygiene at home. Establishing a morning and nighttime routine of brushing for two minutes, flossing, and rinsing will help to minimize the potential for tooth decay, gum disease, and bad breath. Also, using fluoride toothpaste will help to strengthen tooth enamel and combat decay that tries to cause cavities. With these practices in place, you will significantly decrease the risk for serious toothaches and infections that need to be treated by an emergency dentist.
Limit Sugar Intake and Switch to Healthy Foods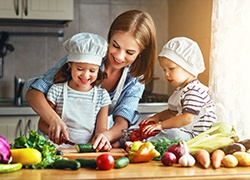 Yes, sweets and starches are enjoyable to eat, but they wreak havoc on your waistline and smile. Because bacteria love chips, cookies, candy, and other bad foods, consuming too much can make it difficult for your saliva to neutralize harmful acids. As a result, they can break down tooth enamel and cause cavities to form. However, if you and your family begin eating healthier foods like fruits, vegetables, leafy greens, lean proteins, nuts, and dairy, you'll see a noticeable difference in everyone's smile. These healthy alternatives promote better gums and stronger teeth.
Safeguard Your Smile with a Mouthguard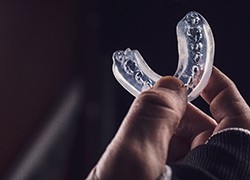 The most important thing you and your family members can do to avoid dental emergencies is to wear a mouthguard during any type of athletic activity. A large number of dental emergencies in Herndon happen during play to someone not wearing a mouthguard. Today, these oral appliances are more comfortable than ever so there's no reason not to wear one during play or practice. If you or a loved one experiences much stress, bruxism may also be a reason to seek a customized mouthguard for your dentist, as this can help prevent chronic jaw pain and wear and tear to your tooth enamel.
Use Tools to Open Packages, Not Your Teeth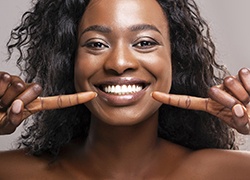 There is no quicker way to visit an emergency dental office in Herndon than to try and use your teeth as tools. Tooth enamel is one of the hardest substances in the body; however, it's not indestructible. When trying to open a package or container, the pressure applied to your teeth can cause them to break, chip, or become fractured. You may even cut or gash your soft oral tissues. Instead of using your pearly whites to do what only an actual tool can do, save your smile and take the time to find scissors, pliers, or any other actual tool to do the job.
Dental Emergency FAQs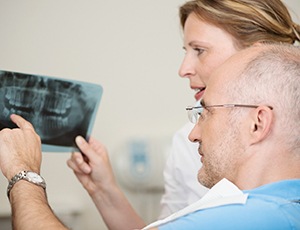 Knowing how to prevent dental emergencies as well as how we can treat them are important, but there's a good chance you still have many questions when it comes to emergency dentistry in general. At Premier Dental Care, we want you to have all the necessary information to be fully prepared and while also remaining proactive should an incident arise. This is why our emergency dentist in Herndon has compiled some common questions asked by previous patients. Review the list below and feel free to contact us with any additional questions you might have.
What does chronic bad breath mean?
Just simply having bad breath can usually be linked to something you ate (i.e., garlic, onions) or even the occasional "morning breath." However, if you are living with chronic bad breath, it's probably because you are experiencing one of the following: cavities, gum disease, poor oral hygiene, or an infection. Known as "halitosis," this condition requires professional treatment to try and rid, as at-home brushing, flossing, and rinsing are no longer enough. It is our job to find the underlying problem and treat it right away.
What does throbbing tooth pain mean?
A standard toothache can be enough to drive you crazy, but should it begin to throb in pain, it's time to get to our office. Usually, this means there is an infection deep within the tooth and is affecting the pulp. Consisting of various blood vessels and nerves, this area is highly sensitive and can be extremely painful if decayed or damaged. We'll likely need to perform a root canal to try and save the tooth from extraction as well as help relieve you from pain. However, if the tooth is unsavable, we'll need to remove it and discuss potential replacement options.
What should I keep in my emergency dentistry kit?
An emergency dentistry kit is an important thing to keep in your home, car, or at home. Having one in each location is actually quite beneficial, as you never know when a dental emergency might occur. Since you cannot always be at home when an injury occurs, it's comforting to know you can be within arm's reach of your kit, which should consist of the following:
Gauze pads and dressings
Sterile gloves
Small container for teeth or lost/broken restorations
Cotton balls
Dental cement should your crown or filling fall out
Denture adhesive
Anti-inflammatory medicines (i.e., ibuprofen)
Floss
Ice pack
Topical anesthetic
Dental practice phone number
Can I pop a dental abscess on my own?
You should never try to pop a dental abscess, as this can make you increasingly vulnerable to a worsening infection. Should you notice a pus pocket forming on your gums, it's essential that you call to schedule an appointment, as it is a dental emergency in Herndon that requires immediate attention. Allowing an abscess to remain untreated can lead to serious consequences. Not only can your mouth suffer, but the infection can spread to your head, throat, and neck.