Meet Farshad Bakhtyari, DMD, CAGS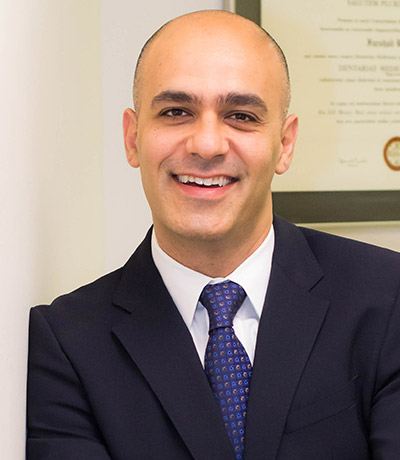 Hello! I am Farshad Bakhtyari, or "Dr. B" as I'm affectionately known by my patients! Thank you for visiting our website and taking time to learn more about me and our great practice.
I was raised in Boston, Massachusetts. I am one of 4 children and I grew up in Newton, a suburb west of Boston, and I remained in the city and obtained a Bachelor of Science Degree in Human Physiology from Boston University. I continued my academic pursuits and earned a D.M.D., graduating Magna Cum Laude from Boston University in 2002.
After I completed my studies, I completed a one-year advanced residency at Boston University with an emphasis on Fixed Prosthodontics and Endodontic Therapy — or, in other words, an emphasis on crowns, bridges, inlays, onlays, veneers and procedures involving the soft inner tissue of the teeth called the pulp.
My Advanced Education in General Dentistry (AEGD) residency trained me to be able to provide all my patients, from children all the way to seniors, with comprehensive and exceptional care in all aspects of dentistry, including all kinds of cosmetic dentistry.
While I still love Boston, I also love my current home in Northern Virginia where my wife and I are raising our two children. We live not too far from the practice in Vienna. In my spare time, I love spending time with my family, trying the latest and greatest food that NOVA has to offer, watching movies, and traveling.
I look forward to seeing you at our practice soon!