Multiple Tooth Implants – Herndon, VA
Filling in the Gaps for Good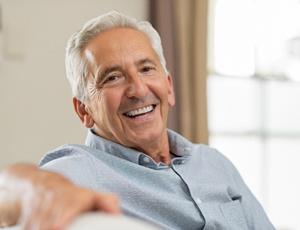 No one wants to walk around with one missing tooth, let alone several. When a problem like this occurs, Dr. Bakhtyari can quickly offer a viable solution to get your smile back – an implant-retained bridge in Herndon. While it might seem complicated and sound scary, this restorative solution offers valuable benefits that cannot be attained with other methods of tooth replacement. Let our team give you the confidence you need to feel good about your smile again. Call us today to schedule a consultation with Dr. Bakhtyari.
Non-Implant Tooth Replacement Options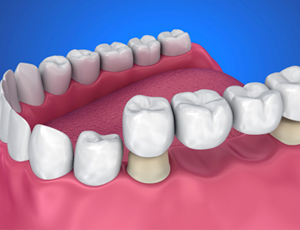 Patients who want a non-surgical option have a variety of alternative methods of restoration treatment to choose from, including:
Dental Crowns and Bridges – Whether you're missing one or multiple teeth, dental crowns and bridges can restore the look of your smile. Using your natural, healthy teeth as anchors, we will design a custom-made bridge that consists of three dental crowns fused together and is matched to your tooth's natural color, size, and shape. The crowns will fit snugly over each tooth on either side of the gap, completing your smile.
Partial Dentures – If your missing teeth are spread out along an arch and not necessarily consecutive, a partial denture can give you back the smile you deserve. Artificial teeth are placed on a gum-colored base that is customized based on impressions taken of your mouth. Using clips, it is snapped into place using your natural, healthy teeth.
Full Dentures – An upper or bottom arch with missing teeth can easily be restored with full dentures. These sit on top of the gums, and your natural suction is what holds them in place.
The Dental Implant Process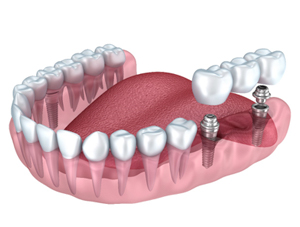 No matter which type of dental implants you have placed, the process is very much the same, but since we're discussing an implant-retained bridge, Dr. Bakhtyari will begin by sitting down with you for an initial consultation. During this time, he will take scans of your mouth and determine where the implants will be placed. Once he has all the information he needs and sends the scans to the dental lab, you will schedule your dental implant placement surgery.
When arriving for your procedure, you will be given anesthesia to make you comfortable. Once you are ready, he will begin to make a few small incisions in your gum line to expose the jawbone. Placing and positioning the dental implant in Herndon into the jawbone, he will begin to stitch up the wounded areas. You'll then be sent home to spend time healing and allowing the implants to fuse to the bone and tissue. It is imperative that the osseointegration process is successful. Otherwise, you could face implant failure.
Once you are completely healed, you will return to have the abutments and custom-made implant-retained bridge secured into place. Composed of three dental crowns that are fused together, dental lab technicians will make sure the size, shape, and color all match, so your smile looks blended and completely natural.
Benefits of Implant-Retained Dental Prosthetics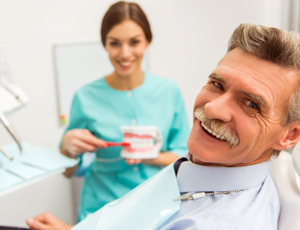 If you're having trouble deciding which method you wish to pursue to replace your missing teeth, consider the many of the following benefits you'll receive with an implant-retained bridge:
Improved oral health
Greater stability
Natural look and feel
Increased confidence
Greater functionality
Lifetime restoration
Minimal maintenance