Single Tooth Implants – Herndon, VA
Achieving Restored Confidence In Your Smile
Single tooth implants in Herndon are, by far, one of the best investments you can make in your smile. These superior tooth replacement solutions give you more stability and ultimately, achieve restored confidence in your smile. At Premier Dental Care, Dr. Bakhtyari has extensive training and experience in dental crowns, inlays, onlays, and other forms of tooth restoration; however, he can also restore your smile with dental implants and help you regain your natural, beautiful smile. To find out how Dr. Bakhtyari can help you, contact our office to schedule an appointment today!
Tooth Replacement Options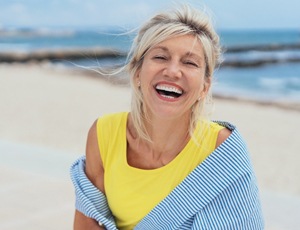 If you are in the early stages of deciding how best to replace your missing tooth, you have two options you can consider: a fixed bridge or a single tooth implant. There are benefits to both, but only one will restore your tooth in its entirety.
Fixed Bridge
A fixed bridge offers an aesthetically pleasing appearance, as well as functionality and improved confidence in the overall look of your smile.
Single Tooth Implant
When opting for a single tooth implant, Dr. Bakhtyari will only work in the missing gap. There is no need to touch or alter any of your nearby teeth. Why is this? Because dental implants in Herndon are only placed in the vacated sockets. The custom restoration that sits on top is not attached to any other teeth, only the implant.
What Are Single Tooth Implants?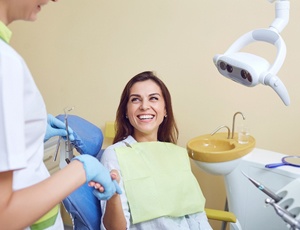 Offering patients a permanent solution, single tooth implants are made of titanium and mimic the root of a tooth. If you're wondering why this is important, your bone needs stimulation in order to stay strong. Without it, the bone can deteriorate, leading to more oral health problems such as changes in your facial appearance, shifting teeth, and additional tooth loss.
Your dentist will make a small incision in your gum line before drilling a hole in the jawbone and carefully positioning the implant. Once he stitches the area, you'll return home to spend the next several months healing and allowing osseointegration to occur, which is the fusing of the implant to the bone.
Once you are fully healed, you'll return to have your abutment, the appliance connecting the implant to the restoration, placed, as well as the customized dental crown. Prior to placement, Dr. Bakhtyari will work with the dental lab to make sure your restoration looks like your natural teeth in color, size, and shape.
Benefits of Single Tooth Implants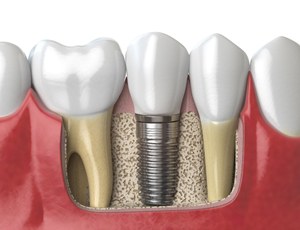 Whether you've decided to move forward with single tooth dental implants or you are still undecided, here are a few additional benefits you may not have considered:
Improved confidence: When you a full, complete smile, you feel better about the way you look. You can expect your single tooth implant to give you the confidence you need to converse with those around you, as well as eat and chew without worry.
Longer-lasting restoration: If the idea of having your dental restoration relined, adjusted, or replaced every few years doesn't sound pleasing at all, you're better off choosing dental implants. They've been known to last for decades or even a lifetime with proper care.
Low maintenance: Who wants to spend lots of time cleaning their new prosthetic with special tools and supplies? Luckily, with dental implants, all you need is to brush, floss, rinse, and see your dentist every six months to keep it and the rest of your teeth clean.