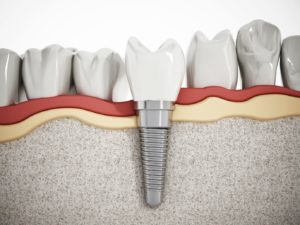 I always tell my patients that a person who is missing one or more teeth may be a candidate for dental implants. An implant is an appropriate treatment method to replace areas of missing teeth and provides support and stability for additional dental appliances.
A dental implant is typically a small titanium screw that is applied to the natural bone of the jaw and is used as a support structure for a ceramic crown (replacement tooth). Additional reasons for implants include the need to resolve bite problems caused by shifting teeth, restoration of natural chewing functions, support for a dental bridge or dentures, and to restore your smile and confidence.

Here are 3 reasons why implants may be the right choice for you:
A More Natural and Functional Feel

An implant feels, fits and functions like your natural tooth. Other options may interfere with how you eat, smile and speak. Implants, along with replacement teeth, create a natural look and feel and can be used in both the upper and lower jaws. Due to their bio-compatible properties, titanium dental implants provide many advantages for patients with areas of missing teeth and can be used in situations that call for the replacement of single or multiple missing teeth. The teeth attached to your dental implants are extremely natural in appearance.

Natural and Comfortable Chewing

Implants allow you to bite naturally, eat almost anything you want, and brush your teeth as you normally would. Dentures can feel uncomfortable when you eat, can limit your your food choices and need to be removed for cleaning.

A More Confident Smile

Implants are fixed in place, so they won't move, click or shift, giving you confidence in your smile. Dentures may slip when you are eating, talking or even laughing. An implant is an appropriate method that aims to replace areas of missing teeth and provides support and stability for additional dental appliances.
If you are considering implants, your mouth must be examined thoroughly and your medical and dental history reviewed. The good news is that the majority of dental implants and can be performed in the office under local anesthesia, with or without general anesthesia.
Although implants are durable and will last many years, regular brushing, flossing and dental visits will add life to your smile. On occasion, implants may have to be re-tightened or replaced due to normal wear. I will provide you with care instructions once your implants have been completed.
Whether you need a single tooth replacement or a full-mouth reconstruction our team does it all! Our specialist, Periodontist Eugenia Prokopets D.D.S, M.S.D. is board certified in Periodontology and Dental Implant Surgery. Dr. Prokopets handles the surgical work and then hands off the restorative work to me so rest assured you're in the best hands with our experienced team. Our prices are competitive and we also offer financing through CareCredit.
If you are interested in learning more about implants or want to schedule an appointment please don't hesitate to contact our office.
About Premier Dental Care
Dr. Farshad Bakhtyari is the founder at Premier Dental Care located in Herndon, Virginia. Dr. Bakhtyari is a leading dentist around Reston, Herndon and Northern Virginia. Dr. Bakhtyari is an expert in general and cosmetic dentistry, is Invisalign certified and has gained a reputation of excellence in the dentistry community.