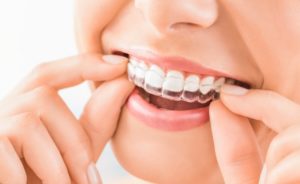 If you're currently using Invisalign, you certainly want your treatment to go as fast and smoothly as possible, so today, we're going to tell you how to make that happen. Here are the top 3 things you should do every day to make sure your Invisalign in Herndon goes nice and quick.
1. Wear your trays as much as possible
In order for your Invisalign trays to work, they of course need to be on your teeth! Dentists recommend that patients should wear their trays for at least 20-22 hours a day to keep their treatment moving along. Basically, the only times you should ever take them off is when you're either eating or cleaning your teeth. If you wear them any less than this, Invisalign will still work, but your treatment will take quite a bit longer.
2. Clean your trays
In order to keep your teeth healthy and your trays crystal-clear, you need to take care of both every day. In the evening, brush and floss your teeth like normal, and then be sure to clean your trays as well.
To do this, you should gently brush them with a clear anti-bacterial soap using a soft-bristle toothbrush. A hard-bristle brush can easily scratch your aligners and make them less invisible, plus these tiny abrasions can trap bacteria as well. And, using a soap that has any type of coloring can actually stain an aligner.
Be sure to brush the inside as well as the outside! Otherwise, leftover food particles inside the trays can become trapped up against your teeth, increasing your risk for tooth decay. After you've brushed them, give them a quick rinse before popping them back into your mouth.
3. Rinse your trays whenever you eat
If you eat and aren't able to brush your teeth/trays immediately afterward, don't worry, all you need to do is rinse your mouth and your trays before putting them back on. This will help wash away any food debris so it doesn't get stuck against your teeth.
As a long-term strategy, it's a good idea to keep travel-size oral hygiene products with you such as a toothbrush, floss, and toothpaste. That way, whether you're at work or on the go, you can quickly brush your teeth before putting your trays back on (after you rinse them!). Keeping your teeth healthy will ensure that your treatment stays on track, because nothing slows Invisalign down like having to get a cavity fixed!
By following each of these tips, you'll be able to complete Invisalign as efficiently as possible and enjoy a healthy smile at the same time. And, before you know it, you'll be seeing a perfectly straight set of teeth in the mirror every morning!
About the Author
Dr. Farshad Bakhtyari, or "Dr. B" as his patients like to call him, is a general, restorative, and cosmetic dentist in Herndon. A graduate of the Boston University Henry M. Goldman School of Dental Medicine, he has provided friendly and comprehensive dental care to patients of all ages since 2002. To learn more about how you can get the most out of your Invisalign treatment, you can visit Dr. B's website or contact him directly here.