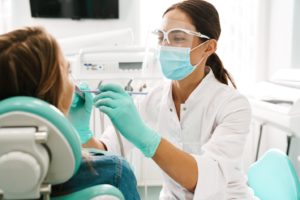 If you've finally decided to seek out cosmetic dentistry to enhance your smile, congratulations! Your teeth will thank you later—but first, it's up to you to find the perfect cosmetic dentist for improving those pearly whites. And with so many available procedures and qualified dentists out there, you'll want to carefully begin narrowing your options before settling on one you feel good about. Here are four tips to help you find the perfect cosmetic dentist in Herndon.
1. Seek Out Recommendations
Naturally, your friends and family members are a great starting point. Ask around and see if anyone you know has had a pleasant experience with a particular dentist—you're much more likely to visit a practice if you've heard first-hand about how positive the visit was! Maybe someone close to you has received cosmetic treatment that provided astonishing, life-changing results; the proof is in the pudding!
2. Check Their Specialized Training & Advanced Technology
If you have a certain procedure or treatment in mind, you'll certainly want to make sure that your dentist has the training and the technology to make it happen! Cosmetic dentists who receive ongoing education will have proof of being up to date on the latest techniques, and they will sport all the necessary tools and the knowledge and training to use them. You can also check the dentist's bio on their website to see which professional organizations they're a part of. These types of memberships showcase a dentist's skills and commitment to a particular field. Some notable ones include the American Dental Association and the Academy of General Dentistry.
3. Look for Reviews and Before/After Photos
It's often helpful to look at a dentist's work prior to making your decision! Most dentists can provide photos of real patients so you can see their results for yourself. These before/after photos can be very enlightening and encouraging—plus, dentists often take a great deal of pride in what they do and love showing off their work! And although word of mouth reviews (from people you know) are usually ideal, online reviews and photos can sometimes be credible and informative as well.
4. Consider Your Wants & Needs
Consider all your wants and needs—not just your dental needs, but also your financial needs or any special care that you might require. Maybe you need an affordable treatment option, or something high-end and super specialized. Or perhaps you'd prefer to have a written treatment plan laid out for you, detailing the specifics of the process, to put any doubts to rest. Or maybe you need the procedure done within a certain timetable; everyone's situation is different and requires individual attention! Let your prospective dentist know what you want and need for your smile and see if they can accommodate you.
There are a lot of different things to consider when picking a cosmetic dentist. But when something as valuable as your smile is at stake, you don't want to take any chances! By using these four tips, you can quickly narrow your search and easily make the right choice.
About the Author
Dr. Farshad Bakhtyari received his dental doctorate from Boston University and has taken countless hours of continuing education in a wide range of fields, including all kinds of cosmetic dentistry. His practice is pleased to offer several available services including all sorts of preventive, restorative, and cosmetic options. If you have any questions about cosmetic dentistry, don't hesitate to contact Dr. Bakhtyari through his practice's website or by phone: (703) 860-8860.