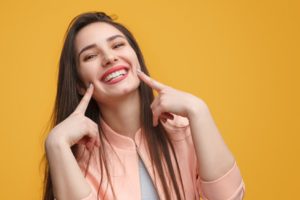 Your smile is one of the first things that people notice about you—and this notion is a large part of why the demand for cosmetic dentistry in the US has doubled within the last five years. Simply put, more people than ever before are opting to brighten and whiten their smiles. But unfortunately, other patients are deterred from seeking treatment because of all the false facts and myths they've heard about cosmetic dentistry! Your dentist in Herndon is here to debunk four of these popular myths so that you can feel good about committing to improving your smile!
Myth #1: The Procedures Are Purely Cosmetic
Cosmetic dental work will certainly enhance the look of your smile—after all, it's in the name! But it can also often improve the way your smile feels and functions, too. Veneers, for example, can be bonded to the outer surfaces of your teeth to enhance their appearance and also provide some protection if their enamel has become thin. Dental crowns can also protect teeth that have been broken or undergone root canal therapy. And dental bonding (sometimes called cosmetic bonding) can fix minor chips and cracks in teeth, which also protects them from infiltrative bacteria.
Myth #2: Over-the-Counter Whitening Works Just as Well as Professional Treatment
Some patients are tempted to whiten their teeth on their own and turn towards store-bought products. While these products are usually cheaper and more convenient, you get what you pay for! These solutions aren't just less potent; they might also harm your enamel and gums. It's always best to turn to a professional if you desire a whiter smile; your dentist has access to tools and equipment that are certain to get the job done in a safe and effective manner.
Myth #3: It'll Break the Bank
Many people assume that cosmetic dentistry is expensive, but it's actually much more affordable than you may realize. Thanks to new technologies and methods, dentists are able to gather materials more easily and perform procedures more efficiently, which drives the cost down for everyone. Not to mention, some cosmetic procedures are also considered restorative in nature, meaning that they're often at least partially covered by insurance. Many practices now also offer payment plans and other means of financial assistance to make cosmetic work more affordable.
Myth #4: The Results Will Look Unnatural
Since the main emphasis of cosmetic dentistry is improving the look of your smile, the last thing you should be worried about is your smile looking fake or unnatural. Thanks to many recent advancements in the field, cosmetic dental results look more beautiful and lifelike than ever before. Materials such as dental porcelain are often utilized that come in a variety of shades and can easily be made to match the color and uniformity of your natural teeth.
You don't have to settle for an unsatisfactory smile, and you shouldn't let any of these myths about cosmetic dentistry deter you from achieving the look of your dreams! Don't hesitate to speak with your dentist in Herndon to see how your smile can be improved.
About the Author
Dr. Farshad Bakhtyari received his DMD from Boston University and has taken countless hours of continuing education in a wide range of fields. His practice in Herndon is thrilled to offer a wide range of preventive, restorative, and cosmetic services. To request additional information or to schedule an appointment, feel free to contact Dr. Bakhtyari through his practice's website or over the phone: (703) 860-8860.