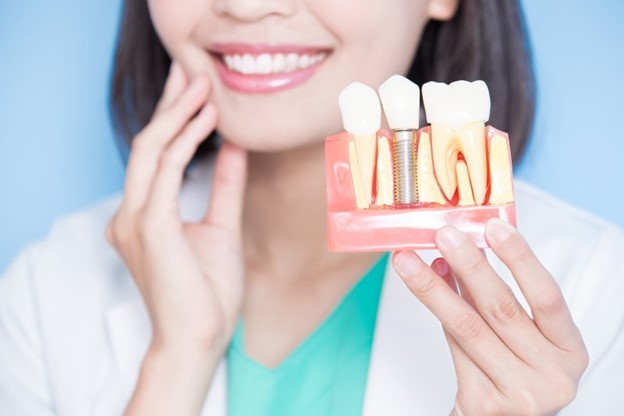 When it comes to replacing missing teeth, there are numerous options available, yet dental implants continue to be a preferred choice. Dental implants have gained significant acclaim in the field of restorative dentistry for their exceptional benefits and natural-looking results. Whether you are considering tooth replacement options or simply curious about the advantages of dental implants, read on to discover why they are a fantastic choice for restoring your smile and improving your oral health.
#1: They Restore Your Bite
Dental implants offer a superior foundation by integrating a titanium rod into the jawbone and attaching a crown to it. This results in a stronger bite force compared to dentures or bridges. Research indicates that dental implants can restore at least 80% of the original bite, while only around 30% is generally restored by dentures.
#2: They Can Help You Maintain a Healthy Jaw
In times of limited nutrients, the body prioritizes their allocation. Losing a tooth can lead to reduced nutrient supply to the jawbone, signaling that it is of lower importance. Consequently, gradual bone loss may occur. Dental implants, however, stimulate the jawbone, fostering its health and strength. Even so, you may need a bone graft if it's been a while since you lost your teeth to ensure that your implants fuse properly.
#3: They are Very Reliable
Despite being a surgical procedure, dental implants boast an impressive success rate of over 95% when properly maintained. Compared to other tooth replacement options, dental implants often have double the lifespan, with many intended to serve for an extended period.
With diligent care, implants can remain functional and look lovely for up to 20 years or even a lifetime. This exceptional durability makes dental implants an incredibly reliable choice for replacing missing teeth.
#4: They Give You a Realistic Smile
Dental implants are meticulously designed to replicate the look and feel of natural teeth. The dental crown or bridge affixed to the implant can be customized to match the color and contour of your existing teeth.
As a result, the implant seamlessly blends in with your natural teeth, granting you a smile that appears entirely natural. With dental implants, you can enjoy a confident and aesthetically pleasing smile.
In summary, dental implants stand out as an exceptional choice for tooth replacement, providing several advantages over alternative options. They contribute to jawbone health, boast a high success rate, and can last a lifetime with proper care!
About the Practice
At Premier Dental Care, bridging the gaps in your smile is their expertise. Offering dental implants, they can help you attain the smile you've always wanted. With their profound knowledge and experience in oral health, their team is committed to providing patients with the necessary guidance for preserving their radiant smiles. To explore more about dental implants or to schedule an appointment with Premier Dental Care, visit their website or call them at (703) 860-8860.