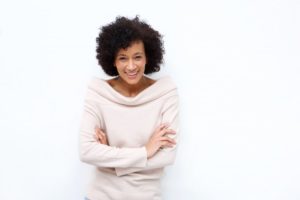 Moisturizer, spa treatments, Botox, eating a healthy diet—you take advantage of many opportunities to slow down or even reverse the clock on your appearance. When it comes to replacing missing teeth, you may think that dentures or bridges are enough to bring back your smile's former glory, but the truth is that dental implants are best way to help you look as young as possible. How are implants significantly better than traditional replacements? Here are four things that implants do that bridges and dentures simply can't on their own.
Mimicking Nature
Modern dentures and bridges look more realistic than ever before, but they still fail to replace the entire missing tooth structure. They only address the crown or easily visible part and ignore the root. Meanwhile dental implants substitute for the whole tooth, including the root below the gumline. As a result, these replacement teeth look even more like the real thing over traditional bridges or dentures alone.
Offering Security and Confidence
Although technology has improved how dentures fit in your mouth, they can slip out of place. This leads many denture wearers to feel self-conscious about eating, talking, or smiling in front of others. However, with dental implants, your prosthetic teeth are stable and will not come out unless you specifically want them to.
Giving Biting Strength
Have you ever watched an elderly person with normal dentures struggle to eat? Often, they can't have tough, chewy, or fibrous foods because their bite has become weak over time. Plus, it can be difficult to chew food when your replacement teeth aren't as secure as they could be. Dental implants resolve all these eating problems. They are embedded in the jawbone, which means you don't have to worry about slippage. They also keep the jawbone stimulated and strong, preserving the ability and strength to bite and masticate food. As a result, dental implants allow you to have a more nutritious and diverse diet and therefore a higher quality of life.
Preserving Facial Structure
Denture wearers know that these prosthetics have to be adjusted every once in a while and replaced completely about every five to seven years. Why? The jawbone is continually shrinking because it is no longer being stimulated by tooth roots. That's why so many older people with dentures have that sunken look. However, dental implants promote new jawbone growth and prevent deterioration. So, even as you continue to age, your facial structure can stay full and youthful!
If you truly wish to make your smile look young again, you need to take tooth replacement to the next level with dental implants. By doing these four things, they offer benefits you won't enjoy with normal dentures and bridges. You deserve to love and recognize your smile when you look in the mirror, regardless of your age.
About the Practice
With Premier Dental Care, you can receive comprehensive treatments all in one convenient location. After finishing dental school, Dr. Farshad Bakhtyari completed an Advanced Education in General Dentistry (AEGD) residency, which gave him priceless experience in all areas of dentistry. Dr. Pooyan Refahi continues to lend his expertise to Tufts University, helping with research on periodontics and implant dentistry. To schedule a consultation with either Dr. Bakhtyari or Dr. Refahi, you can contact Premier Dental Care through the website or by calling 703-860-8860.