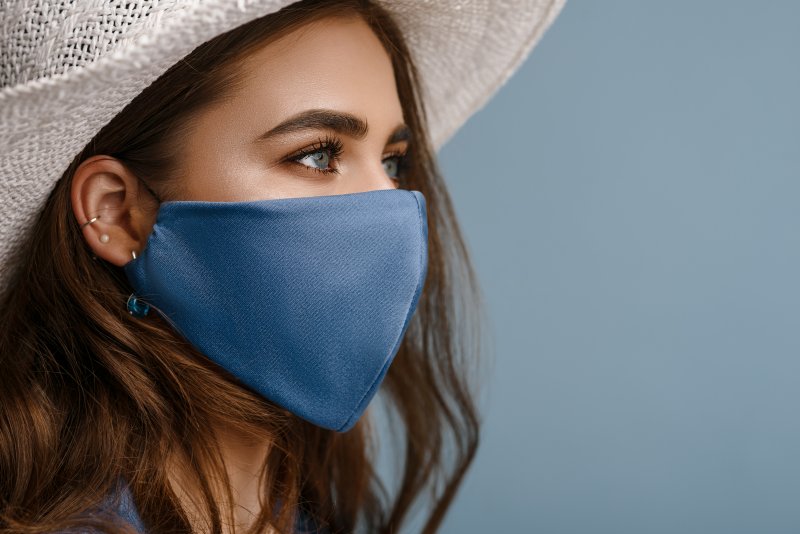 Face masks are now a common accessory worn by individuals throughout the world. What was once only used when a person was sick is now worn daily as a way to prevent the spread of COVID-19. While it may protect you and others from contracting this highly contagious virus, it may be causing problems for your oral health. To avoid the potential for decay, disease, and dry mouth, a dentist explains what you can do to keep your smile in check while staying safe.
Problems Occurring Due to "Mask Mouth"
More and more dental professionals are now seeing patients with what they call, "mask mouth." Even if these individuals are taking care of their teeth and gums on a regular basis, the prolonged time spent wearing a mask is negatively impacted their oral health. So, what problems can be attributed to this piece of personal protective equipment (PPE)? Here are a few examples:
Tooth Decay: Wearing a mask causes a decrease in saliva production as the mouth can become dry. When this happens, bacteria can grow around teeth, gums, and on the surface of the tongue. When faced with inadequate amounts of saliva, it is difficult to flush out plaque-causing bacteria, which can easily lead to an attack on your tooth enamel and eventually, cavity formations.
Halitosis (bad breath): Do you notice a change in how your breath smells after wearing a face mask for a long time? If so, you're likely experiencing dry mouth. This can cause halitosis (bad breath) if enough bacteria build and begin to create a foul odor.
Gum Disease: While early stages of gum disease (gingivitis) can be reversed, once it escalates to periodontitis, the symptoms can cause irreversible damage to your teeth, gums, and bone. When your mouth becomes dry and plaque begins to build, it will break down your soft tissue and bone. If not treated promptly, it can lead to tooth and bone loss as well as more serious health-related conditions.
Inflammation of Soft Tissues: If you begin to notice when taking off your mask that your gums appear red and swollen, it is because they are inflamed. This happens when bacteria and viruses begin to attack the soft tissue because of a decrease in saliva production, and it can lead to gum disease.
How to Care for Your Smile While Wearing a Mask
To avoid any or all of these above-mentioned problems, it is best if you adhere to your dentist's advice and do the following:
Get regular dental cleanings and checkups even if you're worried about COVID-19. Your dentist is taking extra precautions to ensure your health and safety during this time, so you can feel confident receiving oral healthcare.
Brush your teeth twice a day for two full minutes using fluoride toothpaste and a soft-bristled toothbrush.
Floss at least once a day, if not more, to remove plaque-causing bacteria from forming between your teeth.
Rinse with an antimicrobial mouthwash.
Drink plenty of water to keep your salivary glands working at an optimal level and flush out any debris or harmful particles remaining in your mouth.
While it is necessary to wear your face mask to protect against COVID-19, make sure you're taking the necessary precautions to safeguard your smile no matter what type of covering you choose to use.
About the Author
Dr. Farshad Bakhtyari earned a Bachelor of Science degree in Human Physiology from Boston University before continuing his academic pursuits by earning a DMD degree and graduating Magna Cum Laude from the same university in 2002. As one of the two dentists at Premier Dental Care, PC, he and his team are implementing additional health and safety protocols within their dental office to provide better protection for all patients. As COVID-19 remains a current threat, their team will help you safeguard your smile even while it remains behind a face mask. Contact us at (703) 860-8860 to learn what you can do to keep your teeth, gums, and overall oral health free from decay and disease.