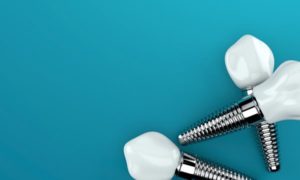 Often considered the gold standard for replacing missing teeth, dental implants have completely revolutionized modern dentistry! These awesome little implants are able to restore lost teeth in terms of look, feel, and functionality. But despite their positive reputation, many patients are still a little hesitant about committing to receiving them. Here are five interesting facts about dental implants from your dentist in Herndon so that you can feel great about committing to your new smile.
#1. They Restore Missing Teeth and Missing Confidence
Your smile is one of the first things that people notice about you, and unfortunately, the gaps left by missing teeth are usually noticeable and can dampen your self-esteem. But dental implants don't just fill in those gaps; they also restore your lost confidence! Dental implants will also make you appear much younger, as they provide facial support and lessen the intensity of wrinkles around the mouth.
#2. They're Resistant to Cavities
Dental implants are composed of materials that are incredibly resilient; unlike your natural teeth, implants are resistant to cavities and decay! However, they don't protect your remaining natural teeth from the issues that can results from poor oral hygiene, such as cavities. The gum tissue surrounding your implants is still quite susceptible to infection if you don't take proper care of your mouth!
#3. They Boast an Impressive 95% Success Rate
The numbers speak for themselves! Dental implants have an impressive success rate of over 95% across all patients who receive them, and as technology continues to improve, it's reasonable to assume that dental implants will continue to improve too. Dental implants can also restore roughly 70% of your chewing power, whereas traditional dentures only restore around 30%.
#4. They're Cheaper Than You Think
It's true that compared to other options like dentures or bridges, implants can be a little pricey. However, if you view the implants as a long-term investment (which they are), the cost is very worthwhile! While the price of implants will depend on several factors such as how many teeth need to be replaced and their location, in the long run, they certainly pay for themselves in that they greatly mitigate serious and costly issues from occurring in the first place!
#5. Your Diet Still Matters
Even though dental implants vastly enhance the functionality of your smile, you'll still need to be aware of what you eat and bite into and make any necessary lifestyle adjustments while your implant sites heal for the first few months post-surgery. You should avoid particularly hard or crunchy foods for a while, as well as refraining from chewing on ice or using your new implants to open things. However, once your implants have fully integrated, you'll enjoy much more dietary freedom than you would with other tooth-restoration options such as dentures.
If you're still on the fence about replacing your lost teeth with dental implants, you should know that they're arguably the best solution available and come with several other benefits, too. That said, don't hesitate to speak with your dentist in Herndon about your eligibility for receiving implants.
About the Practice
The team at Premier Dental Care is honored to serve the dental needs of the Herndon, VA area under the leadership of Dr. Farshad Bakhtyari and Dr. Pooyan Refahi. They combine several collective decades of experience to provide patients with an exceptional level of dental care! Their practice is pleased to offer a wide range of services, including dental implants. To request additional information or to schedule an appointment, feel free to contact the practice online or over the phone: (703) 860-8860.