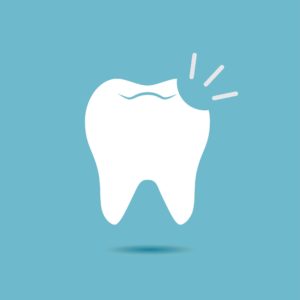 Generally, no one plans on chipping their teeth, so when it happens it can be quite alarming! Whether you bit into one too many hard candies or were knocked across the face during a sporting event, it's important to contact your dentist right away! Regardless of the extent of the damage, you'll need to act quickly. Continue reading to learn more about 6 steps to take next!
Step #1: Stay Calm
It's easy to feel overwhelmed when something like this happens and you're unsure about what to do. Panicking probably won't help you get to the dentist any faster, though, so take a few deep breaths to lower your heart rate. You can help yourself best when you're calm and collected.
Step #2: Rinse Your Mouth
If you've just experienced an incident that resulted in a broken tooth, you could also have some bleeding or swelling. Rinsing with warm water will clear any blood, dirt, or food particles from your mouth. Plus, if the chip hasn't fully detached from your tooth, then this gentle cleanse might be enough to dislodge it. Then you can keep it safe until you see the dentist.
Step 3: Stop Any Bleeding
Apply pressure to the injury as soon as possible if you notice it's bleeding. You can place gauze or clean cloth over the area and bite down gently to staunch the flow.
Step #4: Preserve the Tooth
Your dentist will want to reattach the chip, if possible. If you're able to, locate it and store it somewhere safe. It's important to keep it moist to avoid drying out, but tap water is often treated with chemicals that might harm it. Instead, place it in a small cup of milk, or a Ziploc with some of your saliva. This will preserve it until you arrive for your appointment.
Step # 5: Manage Discomfort
You'll probably experience some degree of swelling and tenderness around the injury. You can try pressing a cold compress against it to reduce soreness and inflammation. It's usually also acceptable to take over-the-counter pain medications, like Tylenol or Ibuprofen, to address any aches.
Step #6: Call Your Dentist
You need to act quickly if you want to be able to replace the chip to its proper position because after 30-60 minutes it's no longer viable. Call your dentist immediately and let them know what happened. They'll want to assess the full extent of the damage as quickly as they can to try to save what remains of your tooth. Once your dentist performs a thorough examination, they'll be able to provide you with treatment options to repair your pearly white, like a dental crown or bonding.
About the Practice
Premier Dental Care has been providing general, cosmetic, and family dentistry in Oak Hill, Virginia since 2008. Our dedicated dental team is committed to ongoing education and training so that your treatment always uses the newest products and techniques. If you've chipped a tooth, reach out right away and we'll review your condition over the phone to help you determine the best next steps. You are welcome to contact us on our website or by calling (703) 860-8860.