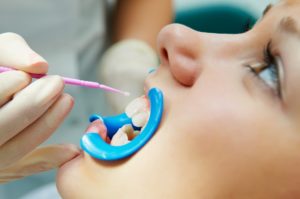 Brushing and flossing are the best ways to help prevent cavities, but it's not always easy to clean the hard to reach areas in your mouth – especially those molars you use to chew. Molars are rough, uneven and a favorite place for leftover food and cavity-causing bacteria to hide. There is another way to help prevent tooth decay with something called dental sealants. Dental sealants are a dental treatment intended to prevent tooth decay. Here are 6 things you should know about dental sealants:
Dental sealants are thin plastic coatings that are applied to the chewing surfaces of the permanent molars (typically after age twelve)
The sealants are painted quickly onto the surface of the tooth and allowed to dry and form a protective layer over the deep grooves of teeth
Dental sealants are invisible, smooth, easy to clean, and can last up to 5-10 years
Dental sealants help protect teeth in areas where 75% of dental decay begins
Dental sealants are a recommended dental care application for children and young adults who are cavity prone (aged 6-16 years) and adults with deep grooves in their tooth surfaces
According to the CDC, "school-age children without sealants have almost three times more cavities than children with sealants."
Your dental sealants are long-lasting but may need to be checked for wear and chipping during your regular dental visits to Premier Dental Care in Herndon. Proper oral hygiene, a balanced diet, and regular dental visits will help protect your teeth and your dental sealants as well.
If you would like to learn more about dental sealants or would like to schedule your next dental appointment, please get in touch!
Dr. Farshad Bakhtyari is the founder at Premier Dental Care located in Herndon, Virginia. Dr. Bakhtyari is a leading dentist around Reston, Herndon and Northern Virginia. Dr. Bakhtyari is an expert in general and cosmetic dentistry, is Invisalign certified and has gained a reputation of excellence in the dentistry community.