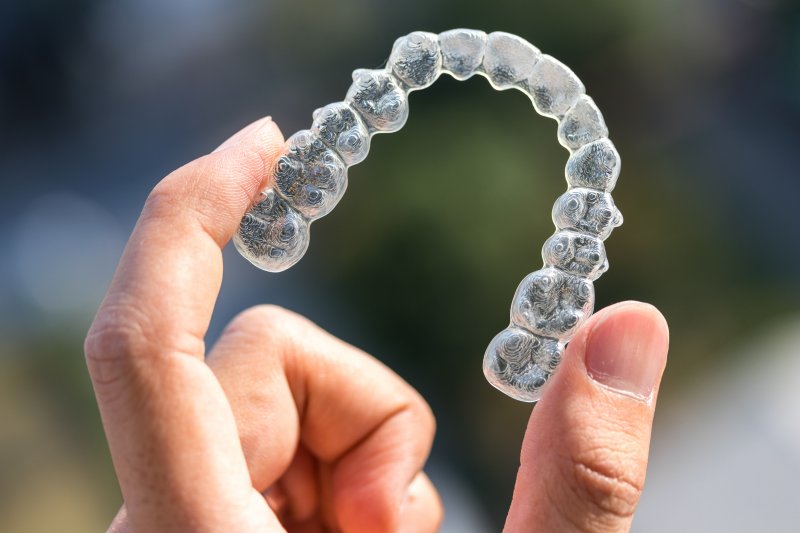 Are you thinking about starting Invisalign treatment in Herndon? If you want to avoid the hassle of metal wires and brackets, you may think it's the perfect orthodontic solution for you. Even though the clear aligners promise to be an easy alternative to traditional braces, the process isn't as seamless as you might hope. There are many things you should know before committing to treatment. Read along to find out what they are!
It's a Serious Time Commitment
Invisalign uses a series of clear aligners to shift your teeth into their proper positions. Since the plastic trays apply gentle pressure to move your teeth, you'll need to meet the recommended wear time of 20 to 22 hours to ensure successful treatment. If you fail to do so, you risk extending the length of your treatment, which can cost you more time and money down the line.
You May Receive More Attachments Than Anticipated
If your orthodontic issues are severe, you may receive more attachments than you'd expect. Typically, these include enamel-colored ridges that bond to your teeth to move them more effectively. Once these attachments are in place, it may look like you're wearing clear braces.
There Will Be Changes in Your Speech
Many patients notice a change in their speech when they first get their Invisalign aligners. That happens because the mouth is not used to speaking with the plastic trays. It's completely normal to have a mild lisp or speech impediment during the first week or two of treatment. The good news is that these changes are only temporary! Any speech alterations should fade away as you adjust to the aligners.
You'll See Your Dentist More Often
Everyone knows the importance of visiting their dentist twice a year for a checkup and cleaning. However, patients undergoing Invisalign treatment will need to see their dentist much more often, usually every six to ten weeks. Make sure you attend these appointments because your progress needs to be monitored by a dental professional. They'll ensure that everything is going according to plan!
You Must Remove Your Aligners Before Eating or Drinking
There are no dietary restrictions while undergoing Invisalign treatment, but you'll need to remove your aligners before eating or drinking anything that's not water. Otherwise, you can damage or stain them. Since you still have to wear your trays for at least 20 to 22 hours a day, you only have about two hours to eat and snack.
You'll Need to Wear a Retainer After Treatment
Once you're done with your last set of Invisalign aligners, you'll need to wear a retainer to maintain your hard-earned results. You'll likely be asked to wear it all day every day for the first few months. However, you should be okay to wear the retainer only at night after that initial period. Because every patient is different, make sure you ask your dentist what's recommended for your specific case.
Now that you know what to expect, you can confidently start your Invisalign journey and be one step closer to achieving the smile of your dreams!
About the Practice
At Premier Dental Care, we offer comprehensive, high-quality, individually tailored dental services for patients of all ages. Our highly skilled and dedicated team is passionate about helping everyone achieve their happiest, healthiest smile. If you have misaligned teeth, ask our team about Invisalign treatment. It's a fast, discreet, and comfortable way to get a straighter smile. Visit our website or call (703) 860-8860 to schedule a consultation!