It's summertime, it's hot and you've been looking forward to treating yourself to your favorite ice cream all week long. You go to your favorite ice cream shop at Reston Town Center and order two scoops, one with chocolate and the other with coffee. Yum! As you dig into your first bite you wince and feel a surge of pain in your mouth. What was meant to be a treat has turned into a nightmare.
So What Causes Tooth Sensitivty?
Sadly, tooth sensitivity or dentin hypersensitivity is a common dental problem and can develop over time.
According to the ADA, "In healthy teeth, enamel protects the crowns,the part of the tooth that you see above the gumline. The roots of healthy teeth are coated with a thin protective layer called "cementum." Under the enamel and the cementum is a more porous layer of tooth called "dentin." The dentin layer contains microscopic tubules or canals that connect with the pulp of the tooth. The pulp is in the center of the tooth and contains the tooth's nerve and blood supply. When irritants such as foods or liquids come into contact with the exposed dentinal tubules, or when excessive pressure is applied against a cracked tooth, a pain response can be triggered."
Sensitivity can be the result of these 7 common problems such as: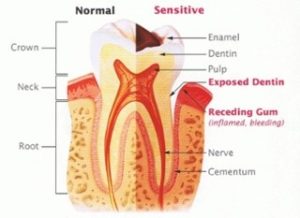 Gum recession, as a result of improper and aggressive tooth brushing or due to age
Loss of enamel, as a result of brushing with an abrasive toothpaste, brushing incorrectly and/or brushing more than three times a day
Tooth Decay
Drinking acidic beverages, such as soda or coffee, can cause dentin exposure and enamel erosion
Tooth grinding can cause most or all of the teeth to feel sensitive
A chipped or fractured tooth can also expose the dentin and cause sensitivity
Dental treatments can cause tooth sensitivity either during or after the procedure
Things You Can Do To Help Prevent Tooth Sensitivity
If your sensitivity is due to exposed dentin, there are some steps you can take to help reduce the sensitivity:
Using a very soft-bristle toothbrush
Brushing correctly to help prevent enamel and gum recession
Using a toothpaste that's specially formulated to help reduce sensitivity
It is important that you get to the root cause of your sensitivity and find out what the cause is; our team at Premier Dental Care in Herndon can find out what the issue may be. These are some things we may do at to help treat your sensitivity:
Apply fluoride varnish to the sensitive areas to help strengthen the tooth
Prescribe a high fluoride toothpaste for daily use
Place a dental restoration to build up the areas that have lost enamel
Whether you need an in-office procedure or over-the-counter products, the most important step is to contact us in order for us to determine the cause of the tooth sensitivity and help you find a solution.