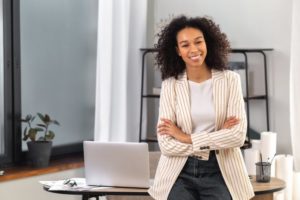 Having beautiful, healthy teeth can impact your entire life. It makes you more confident and more likely to smile, which has been shown to improve your health. But did you know that a luminous pair of pearly whites can also positively impact your career? Oftentimes, when climbing the corporate ladder, people work on their resumes and improve their wardrobes. However, a smile can help you achieve success, too! Read on to learn the connection between the two as well as some cosmetic dental treatments that can help.
What Does Your Smile Say to Employers?
It's often said that a first impression can never be undone. In just seven seconds, you will make an instant impact on your employer solely based on your appearance. One of the easiest ways to make a memorable meeting is a smile! So, you want to make sure it's in top condition.
Research has proven that people with a "more attractive" grin were perceived to be better candidates for job openings, even if they were less experienced. Additionally, studies have shown that employers often associate straight teeth with positive attributes, like happiness, intelligence, and health. Even simply having whiter teeth can make a difference! Bright pearly whites appear youthful and increase the chances of landing a job and being offered a higher salary.
Cosmetic Dental Treatments to Improve Your Smile
There is a wide variety of cosmetic dental services available to achieve your dream smile. Here are just three of the most common ones:
Veneers
If you are dreaming about flawless teeth, veneers are the way to go! Ultra-thin shells of porcelain are adhered to the front surfaces of teeth, concealing dental imperfections from view. Veneers can fix chipped, cracked, gapped, discolored, and misaligned teeth in two dental appointments. Your new smile will also look completely seamless and natural-looking since the porcelain sheaths are custom-matched to the enamel of your surrounding teeth.
At-Home Professional Teeth Whitening
Over time, your smile can become less vibrant. Certain foods and drinks can begin to stain and discolor your teeth. Fortunately, you can brighten your pearly whites with professional teeth whitening! Your dentist will provide you with custom-made trays and special bleaching agents. After wearing the treatment as directed for a few weeks, your smile will be several shades whiter.
Cosmetic Tooth Bonding
You may just want to fix just a small issue with your smile. Cosmetic bonding is the perfect solution for minor chips, cracks, breaks, gaps, and stains. By applying a tooth-colored resin to the flawed tooth and sculpting it to perfection, these issues are quickly masked in as little as one hour.
Achieving your career goals is possible and a bright, beautiful smile can help you! With the assistance of your dentist, you can transform your pearly whites and your future.
About the Author
Dr. Farshad Bakhtyari and his team at Premier Dental Care are eager to help you achieve the smile of your dreams. He earned his Doctor of Medicine in Dentistry from Boston University and has taken countless hours of continuing education in a wide range of fields. By offering a wide range of dental services, including cosmetic treatments like veneers and professional teeth whitening, he can assist you with any oral health concerns or goals. To schedule a consultation, contact him through his website or call (703) 860-8860.