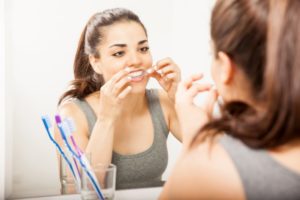 There are few things as attractive as a healthy and sincere smile. But if your smile is a little lackluster, you may hesitate to show it off. Teeth whitening in Herndon might be the ideal solution for you. However, before you try to vanquish the stains on your teeth, you should be aware of some common mistakes people make when they want to turn up the radiance level of their pearly whites. By steering clear of the following missteps, you can make sure your teeth whitening process is both effective and safe.
Mistake #1: Not Consulting a Dentist
There are tons of OTC products that claim to whiten teeth, and some of them are even moderately effective. However, you should never try any such products without first speaking to a professional. Your cosmetic dentist in Herndon can tell you which whitening ingredients might be harmful to your teeth and which whitening fads you should stay far away from. Of course, the best way to whiten your teeth is via a professional treatment. With your dentist's help, you'll have the greatest chance possible of achieving your desired results.
Mistake #2: Going Overboard with Bleaching Products
If you're whitening your teeth at home, and the instructions on the product tell you to leave a bleaching gel on your teeth for 30 minutes, do exactly that. Do not think that leaving the product on for longer will help you get results faster. Going overboard with bleaching products can damage your teeth, increasing their sensitivity to hot and cold temperatures. You might also end up irritating your gums and other soft tissues in your mouth.
Mistake #3: Trying to Whiten Dental Restorations
Do you have dental bonding, porcelain veneers, or a porcelain crown that is visible when you smile? When you received your restoration, your dentist carefully shade-matched it to blend in with the surrounding dentition. Unfortunately, its color will not change when you whiten your natural teeth. If you have dental restorations that look dull or dingy, you may need to get them replaced.
Mistake #4: Not Maintaining the Results
After your whitening treatment, you are going to love the way your teeth look! Keep in mind, though, that the results are not permanent; they require some maintenance. To keep your teeth as bright as possible for as long as possible, you should drink staining beverages through a straw, use a whitening toothpaste, and avoid tobacco. You should also ask your dentist about purchasing a take-home whitening kit that you can use for touch-ups.
Do you want to get rid of stains on your teeth and enjoy a brighter, more confident smile? If you avoid making the above mistakes, you'll be almost guaranteed to enjoy a successful whitening treatment.
About the Author
Dr. Farshad Bakhtyari is a general and cosmetic dentist in Herndon. He offers both in-office and take-home professional whitening treatments. If you would like his help to transform the way your teeth look, contact Premier Dental Care today at 703-860-8860.