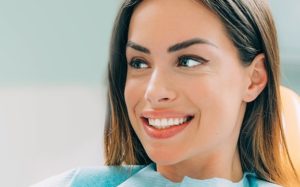 If you've just had your braces removed, you're probably pretty excited about showing off your new smile to the whole world! However, there might still be some finishing touches needed for your pearly whites to look their absolute best; although they might be straighter now, they could still appear a little uneven in color after having braces. But is receiving teeth whitening after braces an effective answer? Here's more from your cosmetic dentist in Herndon.
How Braces Affects Oral Hygiene
When it comes to preventing oral health issues and maintaining the integrity and beauty of your pearly whites, practicing good oral hygiene habits is the name of the game. And unfortunately, braces can sometimes make things a little more complicated; leftover food particles can easily become trapped underneath the wires and brackets, where they stubbornly remain until they're thoroughly cleared out with the help of your toothbrush and dental floss.
It's also worth noting that certain foods and beverages can stain your teeth whether you have braces or not: coffee, tea, soda, tomato products, alcohol, and more can all contribute to discoloration. This means it's extra important for patients with braces to brush and rinse after every meal, in addition to flossing at least twice a day. Inadequate brushing habits won't just lead to discolored teeth—you'll also be at an increased risk of gum disease, tooth decay, and other nasty problems!
Can I Undergo Teeth Whitening After Wearing Braces?
Fortunately, professional teeth whitening can often address this discoloration; however, it's usually recommended that patients wait until after wearing braces to undergo this treatment, rather than before. Teeth whitening before braces can result in uneven shades across the surface of teeth from where the brackets and wires sit, leading to an uneven shade spectrum across your smile.
That said, it's often recommended that patients wait about six months post-braces to have their teeth whitened. Since wearing braces can cause teeth to feel weak for a short period of time, this gives your teeth time to adjust, making any future whitening treatments more comfortable and effective. Additionally, sometimes a patient's saliva can also reduce the intensity of discolorations and differences in shades after their braces have been removed.
If you've just wrapped up your braces journey and it seems like your teeth could use a little extra boost, don't hesitate to contact your cosmetic dentist in Herndon to see if (and when) teeth whitening is a viable solution. It could very well be the last step towards unlocking your smile's fullest potential!
About the Practice
The team at Premier Dental Care proudly serves patients and families in the Herndon, VA community under the leadership of Dr. Farshad Bakhtyari and Dr. Pooyan Refahi. Their practice is thrilled to offer a wide range of preventive, cosmetic, and restorative dental treatments. If you have any questions about the article or would like to arrange a visit, you can contact the practice online or over the phone for additional assistance: (703) 860-8860.