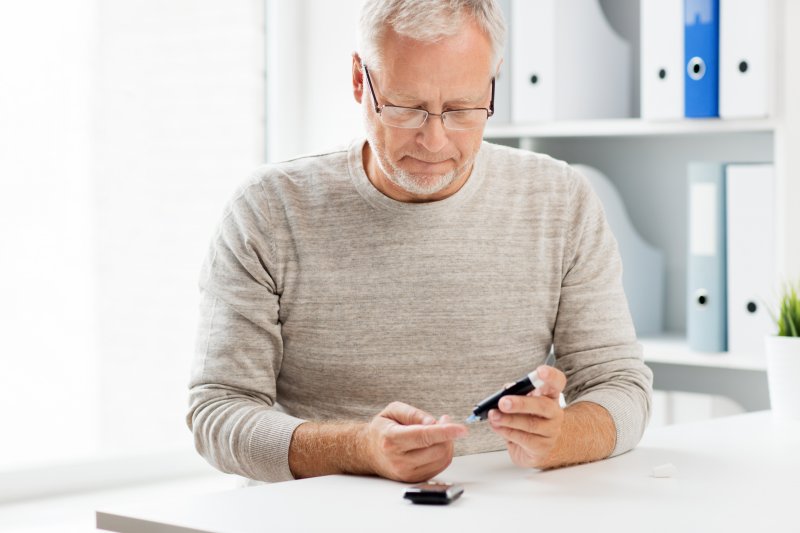 You're tired of living with an incomplete set of teeth. You want a solution that will give you confidence, a more youthful appearance, and the ability to eat the foods you love. While you know dentures and dental bridges are possible options, you want something more permanent – dental implants. But as you do your research, you discover that individuals with diabetes may not be suitable for this type of treatment. Before you give up on your future smile, read on to discover how diabetes and dental implants may not be an impossible feat.
What Makes Diabetes a Problem For Those With Dental Implants?
In short, diabetes can make it harder for patients with dental implants to heal effectively. This can lead to dental implant failure. However, this isn't always the case.
What is true is that diabetes weakens the immune system, causing infections to be more likely. If you are not maintaining your condition and instead living with uncontrolled blood sugar, it can put you at risk for gum disease, which is detrimental to patients with dental implants.
If bacteria attack the gum tissues surrounding the implants, it can cause the bone to break down and shrink, resulting in the implant posts loosening and potentially falling out.
How Can a Diabetic Ensure Long-Lasting Results with Dental Implants?
Because it is not impossible for a person to have dental implants even while living with diabetes, certain precautions and steps must be taken to ensure long-lasting results.
Apart from staying in contact with your local physician to better manage your diabetes, you'll also need to stick to a nutrient-rich diet that limits your access to sugars and starches. You'll also need to begin exercising and making sure that you take any prescribed medications needed for your diabetes.
Frequent follow-up appointments with your dentist are also helpful, as they can examine your mouth to determine if there are any signs of gum disease forming. Of course, good oral hygiene habits at home are essential and include regular brushing, flossing, and rinsing.
If you or your dentist should notice any signs of gum disease forming, you'll want to make sure that you have it treated right away. This can include scaling and root planing, also known as deep cleaning.
Just because you have diabetes doesn't mean you can't take advantage of the many great benefits that only dental implants provide. But to ensure that your new teeth remain in place for decades or even a lifetime, you'll need to make sure that you listen to your dentist and your doctor so that your custom prosthetics have the best chance of success.
About the Author
Dr. Farshad Bakhtyari earned a Bachelor of Science degree in Human Physiology from Boston University before continuing his academic pursuits by earning a DMD degree and graduating Magna Cum Laude from the same university in 2002. Leading a team of experts at Premier Dental Care, he and his team offer beneficial solutions to patients living with diabetes. When tooth loss is a problem, dental implants can be the solution. Contact us at (703) 860-8860 to find out how you can move forward with permanent prosthetics even while living with a serious oral health condition.