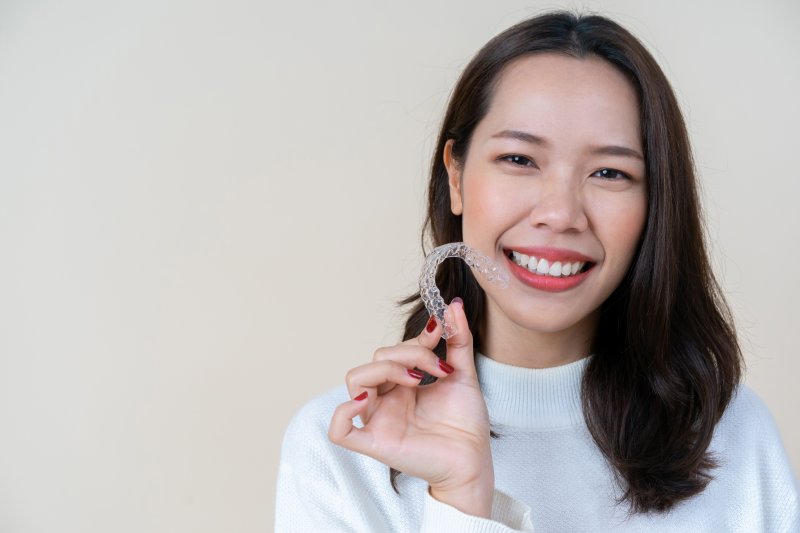 Gone are the days when metal wires and brackets were the only solution for a straighter smile. Now, you can discreetly and comfortably achieve your dream look with Invisalign clear aligners! Since these plastic trays are removeable, you can continue to eat and live your everyday life without interruption. Of course, you may wonder if you're protected against cavities because you have a protective shield over your teeth almost 24/7. Continue reading for the answer and learn how you can keep your smile problem-free while undergoing Invisalign in Herndon!
Are You Able to Get Cavities During Invisalign?
Absolutely! It doesn't matter whether or not you're undergoing orthodontic treatment – there's always a possibility of developing cavities. Because of that, you must take your oral hygiene seriously and clean your teeth as instructed. Failing to properly clean your mouth after eating can cause bacteria and food particles to become trapped between your Invisalign aligners and teeth. As a result, you're at increased risk of decay, cavities, and gum disease.
What Should You Do If You Notice a Cavity?
If you think you may have a cavity, contact your dentist right away and schedule an exam. They'll be able to confirm your suspicions and address the issue with a filling or another dental restoration. After treatment, you may experience mild soreness or discomfort while wearing your Invisalign aligners, especially if you received a larger restoration like an inlay, onlay, or crown.
Keep an eye out for the following signs as they indicate you may have a cavity:
Sensitivity lingers after eating hot or cold foods
Persistent or worsening toothache
Discoloration on your tooth
A hole or pit in your tooth
How to Keep Your Smile Cavity-Free
Untreated tooth decay is an issue that will not only affect your oral health, but it can delay your Invisalign treatment. Fortunately, there are many ways you can protect your smile.
Here are some tips to keep in mind:
Practice good oral hygiene. Brush your teeth twice a day and floss daily to protect against tooth decay, especially during Invisalign treatment. Don't forget to clean your mouth after eating and before putting the aligners back in!
Keep your Invisalign aligners clean. Make sure you take proper care of your Invisalign aligners. You need to brush them and soak them as recommended to keep them free of bacteria and food particles.
Regularly visit your dentist and orthodontist. Stay on top of your routine dental checkups and follow-ups with your orthodontist. They'll thoroughly clean your mouth and treat any issues with cavities.
Are you currently undergoing Invisalign in Herndon? With the tips outlined above, you can make sure that the only thing you're doing is straightening your teeth – not developing cavities!
About the Practice
At Premier Dental Care, we provide high-quality and personalized dental services unlike anywhere else. Our team will always go the extra mile to ensure you get the healthy, beautiful smile you deserve. If you have any questions about Invisalign, don't hesitate to ask. You can reach an experienced team member via our website or call (703) 860-8860.