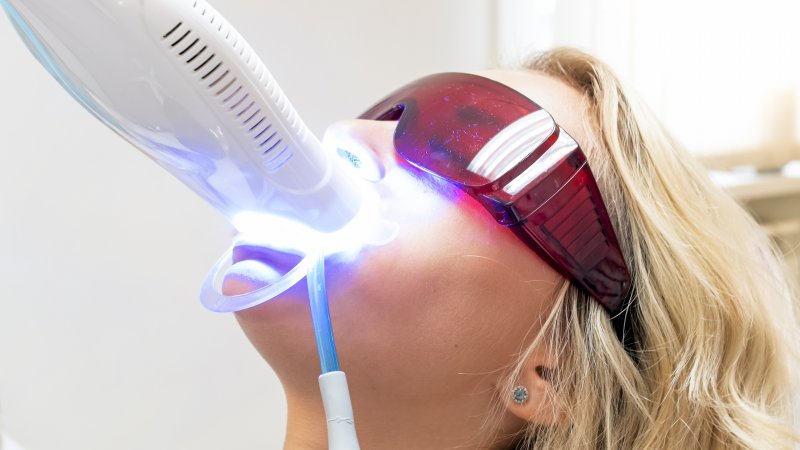 One of the hallmarks of a gorgeous grin is a bright, white, healthy smile. Having teeth that are stained or otherwise discolored makes it difficult for you to feel completely confident in your smile. There are a variety of things that can cause teeth to become yellow and lose their luster. Keep reading to learn what they are as well as what your dentist can do to help you gain a gorgeous grin.
3 Causes of Yellow Teeth
There are several things that can lead to yellow teeth, including:
Foods and drinks – There are a variety of foods and drinks that can cause your smile to become discolored. Some examples are cola, grape juice, coffee, soy sauce, tea, red wine, and other dark or highly pigmented foods or beverages.
Fluorosis – Fluoride is a mineral that is added to many dental products since it can strengthen your teeth against decay. But, overexposure to fluoride can lead to a condition called fluorosis. This condition may leave brownish or yellow spots on your teeth.
Visible dentin – This is the yellow layer of your teeth and can show through your pearly whites if your enamel is overly worn.
Bruxism – This condition is characterized by teeth grinding and jaw clenching. It can cause your teeth to wear prematurely, allowing the dentin to show through.
How to Prevent Yellow Teeth
Though your dentist can offer treatments to correct yellow teeth, there are also several ways to prevent them. Avoid bad habits like smoking or using other tobacco products, which can make your smile yellow. You should also drink alcohol and eat sugar in moderation to lessen your risk of decay and gum disease.
Brushing twice daily and flossing nightly will also keep stain-causing substances from lingering on your smile for too long. Additionally, drink water after consuming stain-causing foods or beverages to wash them away, and use a straw so drinks don't have as much contact with your smile.
How Your Dentist Can Treat Yellow Teeth
If your teeth become stained, your dentist can help. Along with visiting them for biannual checkups and cleanings, there are several treatments they may offer to correct or cover yellow teeth, such as:
Teeth whitening – This treatment uses professional-grade products to lift stains from your smile for a brighter, whiter look.
Porcelain veneers – These thin shells are made from dental-grade porcelain and cover the front surface to cover discoloration. Some dentists also offer Lumineers, which require little to no enamel removal.
Dental bonding – Your dentist will apply a composite material to your teeth to correct discoloration in a similar way as veneers.
Dental crowns – These are often used for severely damaged or decayed teeth but can also correct yellow pearly whites and other discoloration
About the Practice
Being unsatisfied with your beam will soon be a thing of the past with the team at Premier Dental Care. They offer dental bonding, crowns, veneers, Lumineers, and teeth whitening to correct yellow teeth and give you a more gorgeous grin. If you want to set up an appointment with Premier Dental Care or to learn more about correcting yellow teeth, you can visit their website or call (703) 860-8860 to get started on your journey toward a gorgeous grin.