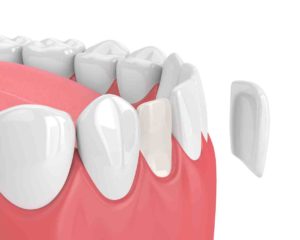 If you'd like to enhance your smile by correcting some cosmetic imperfections, it's understandable that you'd want to do it in the easiest, simplest way possible. But since there are several different procedures a cosmetic dentist in Herndon can use, it's hard to know which one is right for you. Two common options are cosmetic tooth bonding and porcelain veneers. Both choices are an excellent way to give your smile a whole new look, but each one is best used for different situations. Keep reading to learn the basics of how each procedure works and the pros and cons of each!
The Pros and Cons of Cosmetic Bonding
Cosmetic bonding is done with a tooth-colored dental material called composite resin, the same material that's used to fill cavities. It's matched to the existing color of your teeth and shaped to look very natural before it's "cured" with a special light that makes it durable and hard.
Pros
It can be done in just one visit.
In some cases, anesthetic isn't necessary beforehand because the material is simply being added to the teeth.
It's less expensive than veneers.
Little to no enamel needs to be removed.
Cons
Cosmetic bonding usually lasts 3-8 years (not as long as porcelain veneers).
Bonding is more susceptible to stains from coffee, tea, red wine, etc.
It's only suitable for relatively minor imperfections.
The Pros and Cons of Porcelain Veneers
Porcelain veneers in Herndon are strong, thin shells of porcelain that are adhered to the front surfaces of your teeth. They're custom-created in a dental lab to match your dentist's specifications for size, shape, and color, and are designed to perfectly match your existing teeth so they blend in seamlessly with your smile.
Pros
Porcelain veneers are able to mask more severe flaws, including chips, stains, cracks, and more.
They can last 10-20 years with good oral hygiene habits and regular checkups.
Porcelain is also very stain-resistant, so it will continue looking great for the life of the veneers.
Porcelain reflects light more like your own teeth, so it will look very natural.
Cons
This procedure requires two visits.
Although porcelain veneers last longer than bonding, they also cost more.
Which Option Is Right For You?
Each person has a different set of goals and a unique dental history, so the best way to know which option is best is to schedule a consultation with a cosmetic dentist. In addition to making sure your smile looks great, they'll also create a treatment plan that takes your oral health into account as well. But, regardless of which procedure is right for you, you'll get beautiful results that you'll love showing off!
About the Author
Dr. Farshad Bakhtyari is a general, restorative and cosmetic dentist in Herndon and a graduate of Boston University. Over the years, he's used a variety of procedures, including cosmetic bonding and porcelain veneers, to help countless patients transform their smile and improve their self-confidence. If you have questions about which cosmetic procedures are right for you, he can be contacted via his website.