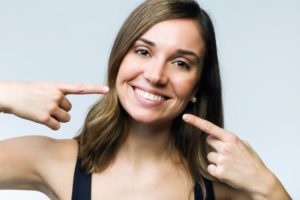 Do you struggle with self-esteem issues? Do you often find yourself passing on social gatherings or fading into the background when forced into pictures? If the reason for this is due to imperfections in your smile, there's something you can do about it! A cosmetic dentist in Herndon explains how beneficial cosmetic dentistry can be at not only improving your appearance but also increasing your confidence. Find out what services can have you saying "yes" to that Friday night dinner date and smiling once again for the camera.
How Can Cosmetic Dentistry Improve My Confidence?
It's natural that when you feel as if you look your best, there is a level of confidence that comes over you, and you suddenly find yourself being more at ease and comfortable in your own skin. While most people apply this to a weight loss plan, the same can be said for patients who undergo cosmetic dentistry treatments. No matter what type of procedure is completed, the results can make you feel and look better than ever before.
A few of the ways cosmetic dentistry can be beneficial include:
It not only improves your own self-esteem, but your attitude can positively impact those around you
A new and improved smile can help you see things in a more positive light
You'll feel less stressed, thus, improving your immune system
It will have you smiling everywhere you go, helping to improve other people's day as a result of seeing you happy.
What Types of Cosmetic Services Are Available?
Today's dental professionals offer a wide range of cosmetic services to meet the needs of all types of patients. From covering stains and discoloration to eliminating gaps and straightening teeth, there's a right method of treatment available for anyone looking to improve their smile's aesthetic and personal confidence level.
Some safe and effective cosmetic treatments include:
Orthodontics (i.e. traditional braces, Invisalign)
Porcelain Veneers
Metal-Free Dental Restorations
Lumineers
Cosmetic Tooth Bonding
Teeth Whitening
Gum Recontouring
If you're considering having cosmetic work done but don't know which treatment suits your individual needs, schedule a consultation with your dentist. Once he thoroughly examines your smile, he can suggest one or more services that will help to transform your smile into something beautiful. Say "so long" to your imperfect smile and saddened feelings. Instead, say "hello" to a new look and new perspective thanks to cosmetic dentistry.
About the Author
Dr. Farshad Bakhtyari earned a Bachelor of Science degree in Human Physiology from Boston University before continuing his academic pursuits by earning a DMD degree and graduating Magna Cum Laude from the same university in 2002. He and the team at Premier Dental Care Family & Cosmetic Dentistry know how to take a patient's smile and turn it into something beautiful. Offering a wide range of cosmetic services, individuals can watch as stains, chips, gaps, and even misalignments vanish and are replaced with a beautiful, dazzling smile. To learn more about our cosmetic services, contact us at (703) 860-8860.