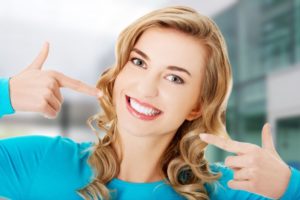 It's natural to want to change things about your smile. It's really no different than working out or eating healthier to change your body, but do you know about the wide array of cosmetic solutions that are available? No matter if you want to hide unsightly imperfections or straighten your teeth, there's a treatment for you. If gaps or crooked teeth are leaving wondering which option to choose, let a cosmetic dentist in Reston discuss why you might choose Invisalign over another treatment option.
What Cosmetic Treatment Options Are Available to Fix Gaps and/or Crooked Teeth?
When looking to fix your smile, you'll never be at a loss for options. Whether it's gaps or crooked teeth you're wanting to address, your dentist in Reston can suggest a few different treatment solutions: porcelain veneers, Lumineers, or Invisalign.
While porcelain veneers and Lumineers cover your imperfections, which can include gaps between your teeth and minor misalignments, they can't fix bite problems or provide the same level of orthodontic work as Invisalign. To determine your specific dental needs, it's best if you have your dentist evaluate your smile before choosing a solution you think is right for you.
Why Should I Go with Invisalign?
Bite irregularities and misaligned teeth are two common problems orthodontists and dentists see all the time. To effectively treat these issues, your dentist may suggest Invisalign, especially if you're looking for a solution that is discreet and flexible.
Some of the added benefits that come with Invisalign include:
The aligners are removable, which makes it easier for you to eat and drink the foods and beverages you enjoy.
They gently move your teeth, allowing for minimal discomfort. Plus, there's no harsh wire tightening that can leave in you in pain for several days.
Clear braces are practically invisible to others.
Your treatment is completed in a shorter amount of time than traditional braces.
Your natural teeth remain intact with no unnecessary enamel removed.
Am I a Good Candidate for Invisalign?
Do you consider yourself to be responsible? Do you want quicker results and an easy oral care routine? Then you might be a great candidate for Invisalign. Clear braces require a level of responsibility that traditional braces, porcelain veneers, and Lumineers do not. Because they're removable, you must be committed to wearing them 20-22 hours each day. Otherwise, your treatment will be delayed.
Also, if it's your teenager who is wanting Invisalign, they may be unable to receive treatment simply because their teeth have not finished growing.
If you believe Invisalign is the right option for you to straighten your teeth or fix your bite, discuss what you can do to get started with your dentist.
About the Practice
At Premier Dental Care Family & Cosmetic Dentistry, Dr. Farshad Bakhtyari and his team are dedicated to enhancing and improving your smile. We know a healthy smile means more confidence, which is why we offer a wide array of treatment options, including Invisalign. To learn more about our cosmetic services, contact us at (703) 860-8860.