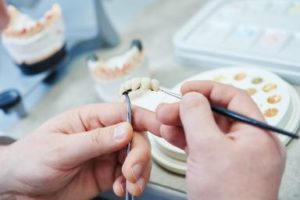 There you are in the breakroom at work when you hear a co-worker talking about the amazing deal they got on dental work on their last vacation. Maybe you need a dental crown or implant anyway but have been holding off due to the cost. And, hey, you could use a vacation anyway! But, although it may seem tempting, overseas dental care (or "dental tourism") can have some serious negative consequences you may not have thought about. In this blog, you'll learn about the risks involved and why it's so important to get dental work from a qualified general and cosmetic dentist in Reston instead.
What Are the Problems Associated With Dental Tourism?
There's a good chance that the dentistry you receive in other countries will not be up to the same standard of care that we have in the U.S.
Here, everything from sterilization requirements to materials and equipment is highly regulated to make sure it meets certain standards. Not to mention that dentists themselves must meet rigorous requirements to obtain (and maintain) their license to practice.
Here are some other concerns to think about:
No recourse – If something goes wrong with your dental work here in the states, your dentist is accountable. However, if you've had work done in another country, it's very difficult to have it addressed. You simply don't have any legal recourse when seeing a dentist in another country.
Water quality – Water will be coming directly into contact with open areas in your mouth such as an extraction site or the inside of a tooth after a cavity has been removed. This makes water quality very important, but it's difficult to know whether the water in another country is as clean as it needs to be. This can potentially lead to serious infections.
Inferior techniques and materials – The material used for dental work like fillings, implants, crowns may not be as strong or durable as it needs to be. In extreme dental tourism cases, material that's toxic to the surrounding tissues may be used to fill a root canal, which can destroy the tooth and lead to an extraction.
Although dental tourism sounds like a great way to save money, it can wind up costing a lot more down the road to fix these issues.
How Can You Find Great Dental Care In Your Area?
To find a high-quality general and cosmetic dentist in Reston, it's a good idea to start by reading through a dentist's website and looking at reviews. If they have a lot of 5-star reviews, that tells you something!
In addition, check to see that they offer multiple services so that you can get all your needs met at the same office. It's also helpful to look at a dentist's "bio" page to see what kind of training and continuing education they've received.
Finding a great local dentist to care for your smile long-term is one of the best things you can do for your oral health. You'll know that you're getting excellent care and dental work that's done right – from the very beginning!
About the Author
Dr. Farshad Bakhtyari (aka Dr. B) is a general, restorative, and cosmetic dentist in Reston and a graduate of Boston University School of Dental Medicine. With a commitment to professional excellence and a friendly chairside manner, he consistently provides top-notch dental care to his patients. If you have any other questions about dental tourism, he can be reached via his website.