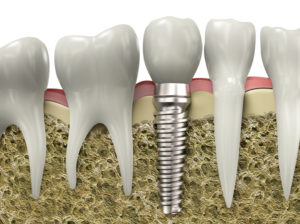 Over the last several decades, new advancements have been made in dentistry to help preserve natural teeth for longer than before. Unfortunately, tooth loss remains a common problem. In fact, the American College of Prosthodontists estimates that 120 million Americans are missing at least one tooth. Too often, it remains untreated because it is commonly believed to be a cosmetic issue, but this is not true. Untreated tooth loss will have serious ramifications on your oral and general health, such as loss of density in your jawbone. Thankfully, you can stop the complications with dental implants in Herndon.

Do I Need to Replace Missing Teeth?
Every tooth in your mouth has an important job to promote your oral health and functions. When even one is missing, you will experience several changes to your health and your quality of life due to decreased bone density in your jaw.
Your tooth's root stimulates your jawbone to keep it strong and healthy to support your teeth and your facial structures. When a tooth is lost, your jawbone is no longer stimulated, causing it to begin to deteriorate. Within the first year, you can lose as much as 25% of its width while it will decrease by as much as 4 millimeters in height over the next several years.
The loss of density creates a new set of challenges. The lack of support will eventually cause your remaining natural teeth to shift toward the open space. This results in alignment issues, making your teeth more difficult to clean. You will develop an increased risk of tooth decay and gum disease. With your mouth the gateway to your general health, this can lead to complications like heart disease.
As time progresses, your remaining natural teeth will eventually become loose and fall out. With each missing tooth, your ability to speak clearly will decline. In addition, chewing can become difficult, leading to a limited diet that could result in nutritional deficiencies.
The lack of support will also cause your facial structures to change, often resulting in an aged appearance as the skin sags and becomes sunken.
To stop these complications, the only treatment involves dental implants.
How Can Dental Implants Help?
Dental implants are the only tooth replacement option to stop bone loss. By surgically placing an implant post into your jawbone, it replaces the tooth root to stimulate new bone growth. Your jawbone will fuse to the post, allowing it to potentially remain in place forever. You will preserve your oral and general health while improving your quality of life with an option that has over a 95% success rate.
As the next best thing to your natural teeth, you will make a long-term investment with dental implants.
About Dr. Farshad Bakhtyari
Dr. Farshad Bakhtyari provides advanced dental care to patients of all ages. In addition to general dentistry, he offers many specialty services, including dental implants. If you are ready to treat your missing teeth, contact our office today to schedule your consultation.