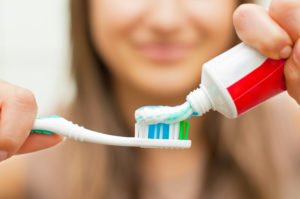 One of the best ways to fortify your oral health is to brush your teeth. To get the most effectiveness out of this, though, it's important that you perform the routine properly, frequently and consistently. As you read on, your dentist in Oak Hill goes in depth on ways to improve your usage of your toothbrush, so that you can experience the absolute best in oral health.
5 Changes to Make to Your Brushing Routine
As mentioned above, there are contributors that play significant roles in the results you get from your brushing. They include the following:
The Frequency of Your Brushing – Your toothbrush usage can only deliver its best results when it's done with the proper frequency. You should be sure to do this at least two times a day, but preferably after each meal to remove unwanted debris and bacteria.
Switching to Electric – Consider switching to an electric toothbrush to thoroughly clean your teeth and remove the hidden substances that can be easily missed when using a manual toothbrush.
Using the Right Bristle – Do you have sensitive gums? If so, then using a toothbrush with firm bristles could be damaging your soft tissue more each time you attempt to clean your teeth. At your local store, look for a toothbrush made for sensitive teeth and gums, which will have softer bristles.
Rinsing – Although it's a simple task, rinsing your mouth when brushing your teeth is quite significant in aiding in the removal of bacteria. Not doing this when cleaning the oral cavity defeats the purpose of the process.
Replacing Your Toothbrush – It's also very important to replace your toothbrush every 60 to 90 days. This is because, over time, bacteria imbed in the bristles and can be re-inserted in your mouth every time you attempt to brush your teeth.
Along with Brushing, Do This
To maximize your brushing efforts, be sure to visit your dentist every six months for cleanings and checkups. These appointments will ensure that any built-up plaque and tartar that you can't address at home will be removed. Thus, you'll be better protected from the harmful effects, which include tooth decay, gum disease and a host of other issues that can arise.
Along with the cleaning, your dentist will provide you with a thorough examination. Thus, if any problems are lurking, they can be addressed before they mushroom into something worse.
To get on track and enjoy the absolute best in oral health, be sure to use the above information to maximize your brushing efforts. Additionally, you should be sure to reach out to your local dentist to schedule an appointment today!
About the Author
Dr. Farshad Bakhtyari (known to patients as Dr. B) earned his Doctor of Dental Medicine degree from Boston University, where he graduated Magma Cum Laude. Additionally, he has completed the Advanced Education in General Dentistry (AEGD) program, which has helped to fortify his knowledge and skillset. Dr. B educates his patients on how to get the most out of their toothbrushes at Premier Dental Care Family & Cosmetic Dentistry and can be reached for more information through his website.