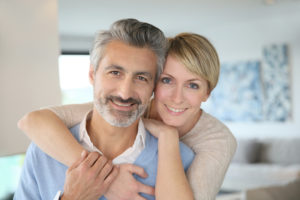 Most of us know that brushing and flossing our teeth can help to fight bad breath and cavities, but significant research points to the fact that caring for our oral health can also improve overall wellbeing. In time for November's Pancreatic Cancer Awareness Month, let's call attention to the link between gum disease and cancer of the pancreas. Keep reading to learn more about why this link exists, and how you can protect your smile and your health!
What Is Pancreatic Cancer?
The pancreas is the organ which lies behind the lower part of the stomach. It has a role in digestion and metabolism regulation. Cancer of the pancreas is relatively rare, with fewer than 200,000 cases in the US this year. However, despite its rarity, it is a serious health threat. Pancreatic cancer is difficult to detect and often not caught until its latest stages. This disease kills over 40,000 people in the United States per year.
Symptoms of pancreatic cancer may be difficult to spot, and can include:
Loss of appetite

Nausea

Jaundice

Fatigue

Pain in the abdomen/middle back
Connecting Pancreatic Cancer and Your Oral Health
Studies show that having certain bacteria in the mouth can be an indicator of pancreatic cancer. Back in 2007, research suggested that men (which the research sample was limited to) who had had gum disease were at a significantly higher risk of developing pancreatic cancer. Additional studies have since only strengthened the findings. While what causes the link is unknown, scientists feel confident that one exists. More research should be done to identify the precise cause of the link.
How to Prevent Gum Disease (And Protect Your Pancreas)
By taking good care of your teeth and gums, you can reduce your risk of developing health threats like pancreatic cancer. Proper oral hygiene requires brushing and flossing as recommended, brushing at least twice a day and cleaning between teeth with dental floss at least once a day. Additionally, it is wise to visit your dentist every six months for a checkup and cleaning. This visit is important because it gives your dental hygienist the chance to identify the earliest warning signs of gum disease — to help you receive treatment before an infection in the gums can put your overall health at risk.
This month, celebrate National Pancreatic Cancer Awareness month by talking to your friends and family about this health threat. Then, recommit to your oral health to help protect yourself against pancreatic cancer!
Meet the Practice
Premier Dental Care, PC has offered Reston friends and neighbors quality dental care since 2008. Because they are concerned with overall health and wellbeing, they encourage all patients to schedule a checkup and cleaning for healthier gums during Pancreatic Cancer Awareness Month. To book your visit this November, don't hesitate to call their office at (703) 860-8860.