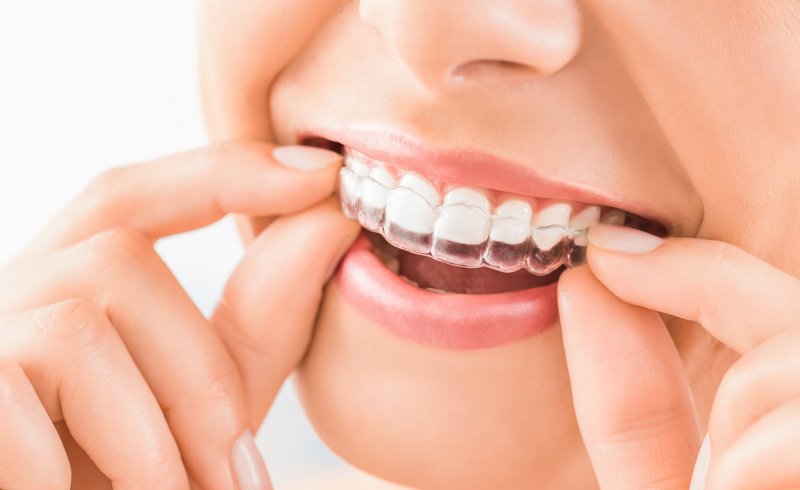 A misaligned bite can not only impact your self-esteem, but it can wreak havoc on your tooth enamel and jaw, causing pain to develop and increase your risk for temporomandibular joint disorder (TMD). Whether it is an overbite, underbite, crossbite, or open bite, it's best to seek professional care sooner rather than later. But are metal braces the only option? Fortunately, no, there is a more discreet solution that produces faster results. Read on to discover how Invisalign clear aligners can treat bite problems in Herndon and help you to see a healthier, more aesthetically pleasing smile.
How to Know if Your Bite is Off
Apart from looking in the mirror and closing your mouth, you may have difficulty knowing whether you have a serious bite problem. A visit with your dentist can determine if you need orthodontic treatment, but there are other ways to identify early signs of a misaligned bite, such as:
Frequent headaches
Chronic jaw pain that makes it difficult to open and close your mouth (TMJ symptoms)
Difficulty speaking
Bruxism (teeth grinding or clenching)
Poor oral hygiene because of the difficulty cleaning your teeth and gums
Wear and tear to your tooth enamel, causing tooth sensitivity
How Invisalign Works
Living with a misaligned bite does not have to be a permanent reality. Instead, you can change your appearance and improve your oral health with the help of Invisalign in Herndon. These clear, plastic trays are designed using SmartTrack technology that allows for more predictable movements and a more comfortable experience.
No matter if you're dealing with an overbite, underbite, open bite, or crossbite, your dentist can create a customized treatment plan that uses Invisalign aligners to move and shift your teeth in a way that properly aligns your jaw. Although this process tends to be easier in younger patients because their facial structure is still growing and developing, teens and adults can still achieve successful results with the help of elastics. Using small, rubber band-like appliances, these can minimize your bite problem and straighten the appropriate jaw for improved alignment.
Naturally, every case is different, and depending on the severity, you may need additional appliances to help move your teeth in the right direction. The important thing to remember is that no smile is too far gone. Using the help of a skilled professional and the right techniques, you can feel more confident and comfortable with your appearance and enjoy a healthier, happier smile.
About the Author
As a dentist in Herndon, Dr. Farshad Bakhtyari believes in providing patients with multiple options to improve the health and aesthetics of their smile. If you are suffering from a bite problem, he can recommend Invisalign to treat the problem and improve your appearance. Because excessive wear and tear as well as chronic jaw pain are common issues that can occur as a result of an overbite, underbite, crossbite, or open bite, Dr. Bakhtyari can use clear aligners to shift your teeth and reposition your smile so that everything works in harmony with each other. If you are ready to take the next step toward a healthier smile, contact us at (703) 860-8860.