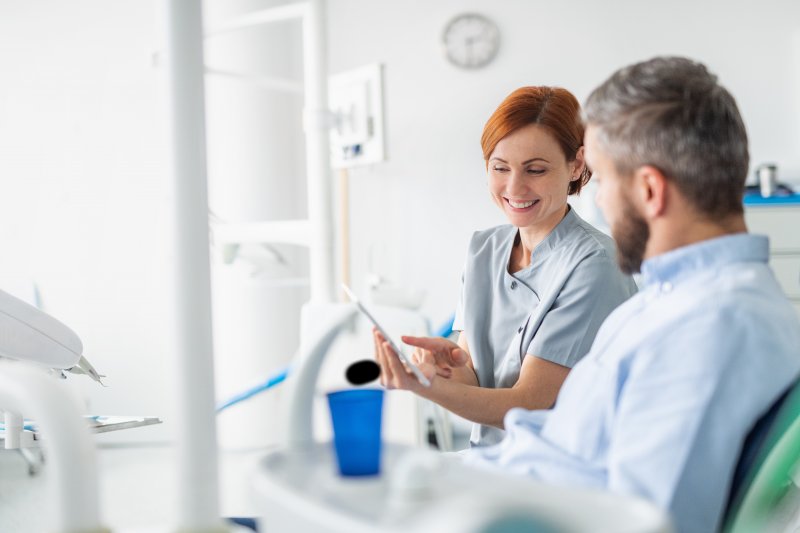 From stains to alignment issues to gaps between teeth, all smiles have their quirks. Those these things make our pearly whites unique, that doesn't mean you have to settle for a smile you aren't happy with. Using cosmetic dentistry, your dentist can fix issues with your pearly whites. As useful as cosmetic dentistry is in giving you the smile you've always wanted, does it hurt at all? Read on to learn what you should expect from different cosmetic dentistry procedures done and whether they will hurt.
Why Does Cosmetic Dentistry Doesn't Hurt
The field of dental health has made many advancements over the years that allow your cosmetic dentist to improve the look of your smile virtually pain-free. Sedation dentistry can help patients with dental fear or anxiety as well as those who are worried about experiencing pain or discomfort receive the treatment they need stress-free. Oral conscious sedation is a method commonly used to make treatment more comfortable for those with sensitive gag reflexes or teeth, people who are uncomfortable reclining in the examination chair for a long time, and patients who don't respond well to local anesthetics.
Modern dental techniques and technology also keep cosmetic dental treatments from being painful. They allow dentists to administer highly precise, minimally invasive, and customized treatments that ensure that you're comfortable throughout the procedure.
What to Expect from Cosmetic Treatment
You shouldn't feel be in pain during your cosmetic procedure, but some treatments may have an adjustment period. Here's what you can expect from a few common cosmetic treatments and tips to help you manage discomfort:
Teeth whitening – Though store-bought teeth whitening products are infamous for causing sensitivity, professional ones minimize discomfort. Any sensitivity you experience after treatment should pass within a day or so.
Porcelain veneers and Lumineers – For veneers, a thin layer of enamel is removed to place these thin porcelain shells. Lumineers are similar, but they don't require any enamel removal. Over-the-counter pain relievers should help ease discomfort or increased sensitivity after getting porcelain veneers.
Braces and Invisalign – Traditional braces use brackets and wires to apply pressure to your teeth and move them into their ideal positions over time. Invisalign works in a similar way, but it uses a series of clear plastic aligners instead. If you experience discomfort after having your brackets tightened or switching to a new set of aligners, apply an ice pack to your face or gums. You can also take over-the-counter pain medicine.
Gum recontouring – This procedure removes extra gum tissue to make teeth look longer and more uniform. Over-the-counter pain relievers can ease any soreness you feel afterward.
Direct bonding – During this cosmetic treatment, cosmetic resin is used to fix chips, cracks, small gaps, or discoloration. The procedure should be painless.
With sedation dentistry and modern technology, your cosmetic dentist should be able to give you a new and improved smile pain-free. Contact them today to start your journey towards the grin of your dreams!
About the Author
If you're unsatisfied with the look of your pearly whites, Premier Dental Care's cosmetic dentistry services can help you achieve the smile you desire. They will explain the whole process to you from start to finish and can ease any concerns you have about whether treatment will hurt. Before you know it, you'll be sporting a gorgeous grin you love! To make an appointment with Premier Dental Care or for more information on cosmetic dentistry, visit their website or call their office at (703) 860-8860.