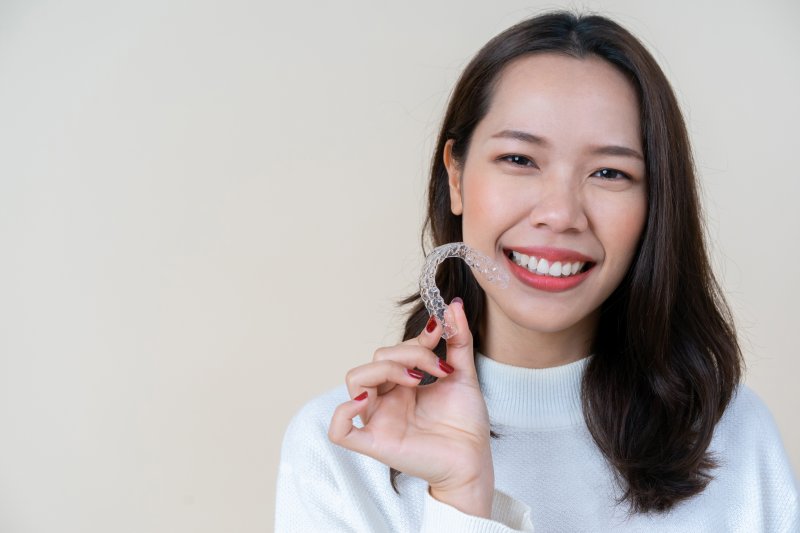 Since it debuted in 1997, Invisalign has helped millions of people close gaps between their teeth, fix alignment issues, and correct bite problems to achieve healthier, more beautiful smiles. As a popular alternative to traditional braces, these orthodontic aligners are the method of choice for many adults and teens alike. If you're considering using these trays to attain a smile you'll love, check out these four common Invisalign questions and the answers you need to make an informed decision.
How Does Invisalign Work?
Invisalign straightens teeth through a system of custom-designed clear aligners that based on molds of your teeth. They are made from BPA-free plastics and gradually move your teeth into their ideal position by exerting gentle but consistent pressure. Patients switch to a new set of aligners every two weeks or so throughout their treatment.
How Noticeable Is Invisalign?
Traditional braces consist of brackets that are linked together by wires. Though they are highly effective at correcting orthodontic issues, they are also bulky and visually invasive. Invisalign, on the other hand, is virtually invisible. It blends in much better with your smile, so many people prefer it over metal braces.
How Long Does Invisalign Treatment Take?
The average treatment time for Invisalign is about 12 months. Traditional orthodontics can take 18 months or longer to complete, so the time commitment for clear aligners is much less. However, more severe orthodontic cases will take longer to correct. How closely you follow your orthodontist's instructions will also impact how long you need to wear your trays. Invisalign should be worn 20-22 hours per day, so wearing your aligners any less than that may extend the length of your treatment.
My Aligners Are Turning Yellow – What Should I Do?
If your aligners start to turn yellow, you likely aren't caring for them properly. To keep your aligners looking their best, make sure to remove them when you eat or drink anything other than water. You should also rinse them with clean water before you put them back in to remove debris. Avoid using hot water since this can warp your trays. Lastly, make sure to brush and floss your teeth after meals to avoid staining them and clean your aligners every day.
What Happens After Invisalign Treatment?
Once you've completed treatment, your orthodontist will give you a retainer to keep your teeth from moving back into their previous positions. Your dentist will instruct you on how often it needs to be worn to preserve your results.
Now that you know the answers to a few common Invisalign questions, hopefully you have enough information to decide if you want to move forward with treatment. Reach out to your dentist to see if Invisalign is right for you. The gorgeous grin you want is within reach!
About the Practice
Do you like the way your smile looks? Are you struggling with misaligned pearly whites or bite problems? Premier Dental Care offers Invisalign aligner trays to correct these problems and help you feel more confident in your grin. They are here to answer any questions you have about treatment so you can be well informed and completely comfortable before your get started on your journey towards a more beautiful smile. Are you interested in setting up an appointment with Premier Dental Care or do you want more information on Invisalign? Call their office at (703) 860-8860 or visit their website.