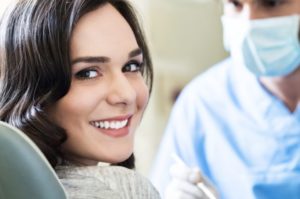 Veneers are one of the hottest cosmetic treatment options available these days, and several patients are turning towards them to completely transform their smiles! However, the process for receiving veneers might not be as cut-and-dry as you'd think; patients are often given a set of temporary veneers to wear before their permanent veneers are manufactured and bonded in place. Here's more from your cosmetic dentist in Herndon about why this step is absolutely necessary and how these temporary veneers greatly assist your smile in the long run.
The Purpose of Temporary Veneers
If you've ever bought a new car, you probably took it for a test drive before signing the papers and receiving the keys—this allows you to experience how the car looks and feels before you commit to it. Temporary veneers function very similarly; they give you a sense of how your new smile will look and feel, and also allow your dentist to make precise adjustments if any are necessary (such as if something needs to be made smaller, larger, whiter, etc.). Since veneers are intended to last for several years, having all of the measurements calculated beforehand is wise.
Temporary veneers also serve another important purpose; they protect your teeth while you're waiting for your permanent veneers. In order for the veneers to fit properly against your teeth and blend in seamlessly with your smile, your dentist needs to remove a small portion of enamel from the surfaces of the teeth being treated. However, since your enamel doesn't grow back on its own, it's worth mentioning that this part of the process is irreversible, and teeth being treated in this manner will always need to have veneers. This means that your newly modified teeth will need to be protected until your permanent veneers are ready, which is wear temporary veneers come into play; they ensure that your natural teeth remain safe and secure.
What to Expect When Wearing Temporary Veneers
It's also worth noting that you might experience the following when wearing temporary veneers:
Changes in your dental hygiene regimen – Usually, there aren't any gaps between temporary veneers, meaning you won't be able to floss effectively until your permanent veneers are in place.
Difficulties when chewing – Since temporary veneers tend to be a little thicker than permanent ones, chewing might be difficult and/or slightly uncomfortable.
Diet limitations – You will need to avoid eating anything that's extra hard, sticky, chewy, or crunchy, in order to prevent your temporary veneers from becoming dislodged.
Temperature sensitivity – Because your teeth will be partially exposed from having a portion of enamel removed, you might experience some slight discomfort when eating or drinking hot or cold items.
If you're on the fence about committing to veneers, knowing how the process works can help you feel comfortable about receiving them and vastly upgrading your smile!
About Premier Dental Care
Premier Dental Care has served the dental needs of the Herndon area for several years. The practice is led by Dr. Farshad Bakhtyari and Dr. Pooyan Refahi. They combine years of experience and expertise to provide their patients with an exceptional level of care, and they're proud to offer a wide range of preventive, restorative, and cosmetic treatment options such as veneers. If you have any questions about veneers or would like to schedule a consultation, feel free to contact the practice online or by phone: (703) 860-8860.