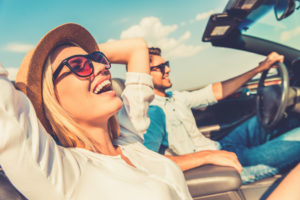 Are you ready for some fun in the sun? The summer months are typically filled with adventure and exciting activities. However, some summer staples can actually damage your smile if you're not careful. Nothing ruins a vacation faster than a toothache or dental emergency! Fortunately, there are some simple steps you can take to protect your smile in Herndon this summer. Keep reading below to discover more.
Trade Sports Drinks for Water
People tend to drink more during the hot summer months in order to stay hydrated. After exercising or playing a game of pickup basketball, a sports drink can quench your thirst and replenish electrolytes. However, sports drinks can also be harmful to teeth due to their acidity and high sugar content. Acidic beverages can weaken enamel, making your teeth more susceptible to decay. In addition, the sugar in sports drinks can encourage bacterial growth in your mouth if you do not brush your teeth afterward.  
Instead of grabbing a brightly colored sports drink after every workout, fill a reusable bottle with water. Water is not acidic and does not contain any sugar. Even better, if you drink water straight from the tap, it can actually protect your teeth! Tap water usually contains fluoride, an important mineral that strengthens teeth and reduces the risk of tooth decay.
Limit Sweet Treats
Yes, nothing beats a cool ice cream cone on a hot summer day. Don't worry, you don't have to give ice cream up entirely! However, you should try to limit your consumption of sweet treats and instead eat plenty of smile-friendly foods. Here are a few examples:
Milk, yogurt, cheese and other dairy foods contain high levels of calcium, which strengthens enamel and builds strong bones.
Fish, lean meats, and nuts are good sources of phosphorus, which supports calcium in building strong teeth and bones.
Citrus fruits, tomatoes, peppers, broccoli, and more contain vitamin C, which protects gums against gingivitis.
Wear a Mouthguard When Playing Sports
Softball, biking, soccer, flag football – no matter what your favorite outdoor sport or hobby is, it's important to always wear a mouthguard. Even in "non-contact" sports, the risk of damaging your teeth, gums, or mouth exists. If you get hit in the mouth by a softball or fall off your bike, you could easily chip or even knock out a tooth. Fortunately, quality mouthguards are easy to find these days. You can choose between the "boil and bite" types available in sports goods stores or ask your dentist to create a custom-made guard to fit comfortably around your teeth.
Follow the tips above to protect your oral health and enjoy your summer vacation! For more advice on how to prevent cavities and dental emergencies, contact your dentist in Herndon.
About the Author
Dr. Farshad Bakhtyari provides comprehensive oral care with a friendly touch in northern Virginia. A proud father of two, he knows what an important time summer vacation is for many families. For more oral care tips to protect your smile this summer, visit the Premier Dental Care website or call Dr. Bakhtyaru at 703-860-8860.