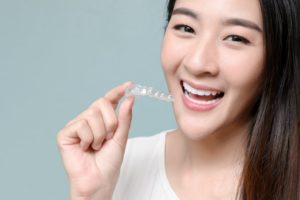 You've heard about all the benefits associated with Invisalign in Herndon, and you would much rather straighten your smile more discreetly than with metal braces. You like the idea of removing your trays to eat and not having to worry about picking food out of your wires and brackets. Not to mention, the idea of a gentler, less painful orthodontic treatment sounds ideal. But how do you know if Invisalign is right for you? Do you even qualify for eligibility? To answer these questions, a cosmetic dentist has compiled four ways you can better determine if wearing clear aligners will work for you.
What Is It You Want to Fix?
Identifying what it is that you want to fix about your smile is the first step in determining if Invisalign is right for you. By scheduling a consultation with your cosmetic dentist in Herndon, the two of you can discuss the complexity of your specific orthodontic problem as well as what you hope to achieve by attaining a straighter smile.
Invisalign is a versatile treatment option; however, there are some cases that require traditional braces in order to achieve desired results. If you have any of the following, Invisalign may be a possibility for treatment:
Spaces between teeth
Overcrowding
Overbite
Underbite
Crossbite
The above-mentioned problems must not be too severe, or it is likely you will be recommended to move forward with another type of treatment.
How Old Are You?
Although there are dentists who provide Invisalign to teenagers, it is best recommended for older teens and adults. The reason is that young teeth found in children and pre-teens are still growing. As permanent, adult teeth settle in, older teenagers and adults can benefit from this more discreet treatment option.
Teenagers battle enough peer pressure and social difficulties, so adding metal braces can only make it worse, hence, why Invisalign is highly desired among this age group. But the same can be said for adults. Whether working professionals or stay-at-home moms and dads, everyone wants to make an impression, and while improving the aesthetic and health of your smile is important, it shouldn't come at the cost of compromising your daily appearance.
Are You Committed to the Process?
Invisalign requires a level of responsibility that is not found with other types of orthodontic treatment. In order to prevent a delay in treatment, it is necessary to wear your trays at least 20-22 hours a day, only removing them to eat, drink, and clean them. It's also your responsibility to keep them in a protective case when not wearing them, as this can prevent unnecessary germs and possible damage from occurring to your aligners.
While traditional braces cannot be removed, Invisalign offers flexibility – a benefit most people appreciate, but if you aren't dedicated to wearing them as you should, your teeth will not move, causing the process to fail.
Have You Taken a Smile Assessment Test?
Invisalign offers a free Smile Assessment Test to determine if you are a qualified candidate. By answering a few questions about yourself and what you hope to change about your smile, the test can provide some useful insight into whether or not this type of orthodontic treatment is right for you. Of course, it is still necessary to schedule a consultation with your dentist, as they will be able to fully determine if you should move forward with Invisalign or opt for an alternative solution.
Remember, Invisalign isn't for everyone, but it could certainly be for you. Take some time to evaluate your needs and schedule a consultation with your cosmetic dentist. Who knows? You may just be on your way to a healthier smile without the metal braces to go along with it.
About the Author
Dr. Farshad Bakhtyari earned a Bachelor of Science degree in Human Physiology from Boston University before continuing his academic pursuits by earning a DMD degree and graduating Magna Cum Laude from the same university in 2002. He and the team at Premier Dental Care Family & Cosmetic Dentistry know how to take a patient's smile and turn it into something beautiful. Whether you have crooked or crowded teeth, spaces between teeth, or a bite alignment issue, he can offer safe and effective orthodontic treatment and have you seeing the smile of your dreams in no time at all. To learn more about Invisalign and its many benefits, contact us at (703) 860-8860.