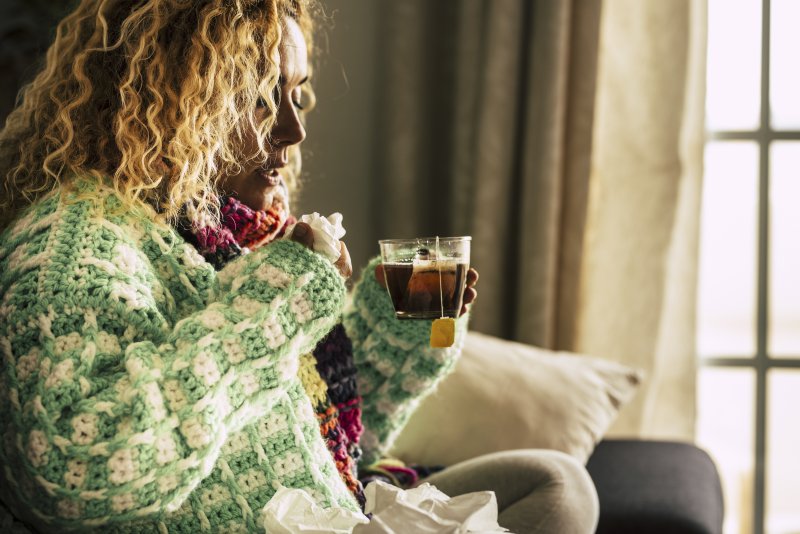 The temperature is dropping, the leaves are changing colors, and the days are getting shorter. That can only mean one thing – it's time to start preparing for winter. For most people, that means stocking up on tissues, hand sanitizer, and vitamin C. However, if you're currently undergoing Invisalign treatment, cold and flu season can pose a unique set of challenges. That said, here are some steps you can take to reduce your exposure to germs and viruses while wearing the clear aligners.
Stay Hydrated
Water is truly one of the best drinks for your mouth and body, especially during cold and flu season. By staying hydrated, you can avoid dry mouth and the complications that come with it. When you're sick and have a stuffy nose, it's normal to fall into the habit of breathing through your mouth. Unfortunately, that can decrease saliva production (causing dry mouth), and leave your oral cavity vulnerable to harmful bacteria. As a result, you're at an increased risk of cavities and bad breath.
Wash Your Hands
Regularly washing your hands is a piece of advice that may seem obvious, but it cannot be emphasized enough. You must clean them often during cold and flu season, especially before doing anything with your Invisalign aligners. Otherwise, you can expose your mouth to unwanted germs and bacteria that can make you ill. Since it's not always practical (or possible) to wash your hands before removing your trays, consider using an aligner removal tool like an OrthoKey.
Keep Your Spaces Clean
Do you work at a desk, on a computer, or handle equipment throughout the day? These personal electronics and spaces give people a false sense of security, making them think they can't get sick since it's their germs. However, one study found that the average desk contains up to 400 times more germs than those on toilet seats. So, next time you're looking for an appropriate place to lay your clear aligners, make sure it's in a retainer case. Not only will it protect them from germs, but you're less likely to misplace them or accidentally toss them out.
Practice Good Oral Hygiene
When you're feeling under the weather, the last thing on your mind may be brushing and flossing your teeth. However, it's crucial to stay on top of your oral hygiene routine even when you're feeling really tired. It's the best way to keep your dental health in tip-top shape.
Carry Reinforcements in Your Travel Kit
If you are currently undergoing Invisalign treatment, you probably already have several oral care accessories you carry with you on a daily basis. Well, make sure you stock up on winter essentials like hand sanitizer, sanitizing wipes, lotion, and Chapstick as well.
Are you prepared for cold and flu season? By following the tips outlined above, you can survive the season without risking your oral and physical health.
About the Practice
At Premier Dental Care, we're passionate about helping restore and enhance the natural beauty of our patient's smiles. Our team only uses state-of-the-art treatments and procedures to give you a beautiful, long-lasting grin you'll proudly show off. For more Invisalign tips, visit our website or call (703) 860-8860.