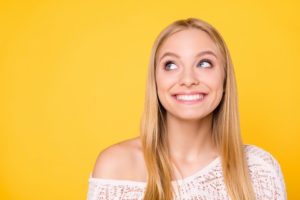 When looking in the mirror, what do you see? Are you happy with the look of your smile or do you cringe wishing you had a magic wand to erase the stains, discoloration, and yellowish tinge? If the latter sounds more like what you're experiencing, you'll be happy to know there is a solution that can help. With teeth whitening in Herndon, you can say goodbye to the stains and hello to a beautiful, new and improved smile. Read on to find out just how beneficial this treatment can be at removing hard, stubborn, deep-down stains.
What Causes Teeth to Become Yellow?
As you grow older, your teeth can begin to change color. While this might not be what you want to hear, it's an unfortunate reality. With daily wear and tear, thinning tooth enamel can lead to increased discoloration and visible stains. But there are other reasons your teeth may be taking on a yellowish tinge, including:
Foods and Beverages: Dark-colored tea, soda, coffee, red wine, berries, spices, and sauces can leave behind stains and cause yellowing of the teeth.
Smoking: The nicotine inside cigarettes, cigars, and other tobacco products can have lasting effects on your teeth, oral cavity, and overall health.
Antibiotics: Certain medications taken at a young age have been known to cause yellowing of the teeth.
Excessive Fluoride: Although a beneficial treatment for preventing tooth decay and strengthen tooth enamel, too much consumption can actually cause your teeth to become stained.
Bruxism: Also known as teeth grinding or clenching, this causes your teeth to wear down, thinning the enamel and leading to the visibility of stains and discoloration.
How Can Teeth Whitening Help?
If you are tired of how your smile looks and are ready to do something about it, your cosmetic dentist in Herndon offers professional in-office and take-home whitening kits. No matter which method you choose, you can feel confident knowing your results will be leaps and bounds better than anything you might purchase at a local drug store.
With in-office teeth whitening, which is also known as dental bleaching, your dentist can use high-grade bleaching gels to blast away stubborn stains deep within the tooth enamel. Within an hour, you will notice a dramatic difference in the color of your teeth, allowing you to leave with a whiter, brighter smile.
Should you choose a take-home kit instead, this will enable you to whiten your teeth on your own time. Taking two visits to your dentist's office, the first appointment will include taking impressions of your smile, so lab technicians can customize your whitening trays to ensure a proper and comfortable fit. During the second visit, you will be fitted with your trays and receive the professional whitening gel, which you will use according to the instructions provided by your dentist. Within about two weeks, you'll see a beautiful, healthy-looking smile.
Don't let yellowed teeth get you down. With the holiday approaching, there's no better time than now to brighten your smile and get ready to smile for the camera! Talk to your dentist about teeth whitening and how it can help improve your smile today.
About the Author
Dr. Farshad Bakhtyari earned a Bachelor of Science degree in Human Physiology from Boston University before continuing his academic pursuits by earning a DMD degree and graduating Magna Cum Laude from the same university in 2002. Committed to not only improving the health of his patient's smiles but their appearance as well, he offers a wide range of cosmetic dentistry services, including in-office and at-home teeth whitening.  To learn more about our cosmetic services or how you can brighten your smile with this popular treatment, contact us at (703) 860-8860.