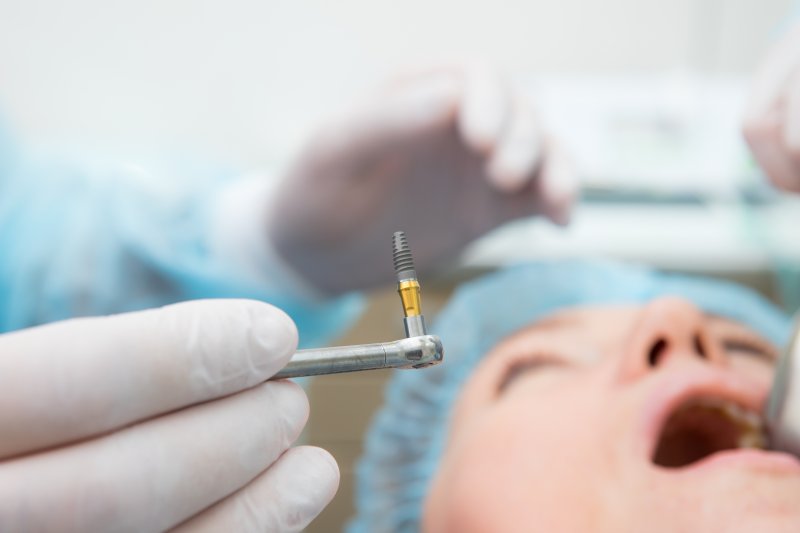 Dental implants are considered the gold standard of tooth replacement – and for good reason. They're one of the most permanent solutions for missing teeth, giving you a smile that looks, feels, and acts just like your old one. After scheduling your dental implant surgery in Herndon, you may be wondering how much you need to take off from work. Well, the answer varies from patient to patient as it depends on a few factors. Read on to find out what to expect!
Number of Implants
Generally speaking, patients who receive only one or two implants can expect a much quicker and easier recovery. Because of that, they can return to work sooner than originally anticipated. If you're getting more than a couple of implants, you may want to consider building an additional day or two into your plan to allow swelling, bruising, bleeding, and other side effects to subside.
Bone Grafting
Some patients do not have sufficient bone density to support dental implants. In these cases, bone grafting may be used to gather tissue from elsewhere in the body or a tissue bank to augment the implant site. Although minor bone grafts shouldn't affect your recovery time, more complex procedures can significantly alter your timetable.
Following Post-Op Instructions
After dental implant surgery, your implant dentist will provide you with a list of specific aftercare instructions that you must follow. It's incredibly important that you follow those instructions to a T as it's the best way to minimize your recovery time.
Here are some post-op tips that can prevent oral infections and promote faster healing:
Keep your mouth clean. You can brush your teeth as you normally would the day after your surgery. However, make sure you're extra careful around the implant site. Rinse with warm salt water to wash away harmful bacteria and keep the area clean.
Leave the blood clot on your surgical site alone. Do not touch it with your tongue or fingers! Otherwise, it can lead to a painful complication known as a dry socket.
Avoid poor dental habits. Drinking alcohol and smoking can delay healing and increase your chances of developing an infection.
Get plenty of rest. You must take it easy after oral surgery! Overexertion and intense physical activity can increase swelling, throbbing, bleeding, and overall discomfort.
Ultimately, taking proper care of your mouth after dental implant surgery will help you make a speedy and smooth sailing recovery. Following the tips outlined above will help you get back to work in record time!
About the Practice
At Premier Dental Care, we provide exceptional, comprehensive, and state-of-the-art dental care to patients of all ages. Our team will always go above and beyond to ensure your journey towards a complete, healthy smile is a breeze! To learn more about what to expect after dental implant surgery, visit our website or call (703) 860-8860.