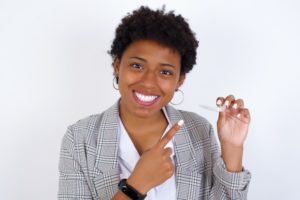 For years you've put up with your crooked teeth, but you've had enough. However, at your age, you don't want to wear metal braces for several years to correct your smile. So, what can you do? Invisalign may be your best option, and you shouldn't work with just anyone. In this post, you'll learn why this treatment deserves your attention and how you can find a qualified provider.
Why You Should Find an Invisalign Provider
If you have mild to moderate misalignment in your teeth or bite, Invisalign is worth careful consideration. Here are just a few of the benefits you can enjoy when you work with a provider that offers Invisalign treatment:
Fewer Appointments
With traditional braces, you need to go into your dentist's office every couple of weeks for an adjustment. However, your treatment plan is created from the beginning with Invisalign. All you have to do is stay on track with your aligners. Every once in a while, you still need to visit your provider to check in and make sure everything is progressing according to plan, but you don't have nearly the number of appointments as you otherwise would with normal braces.
Easier Maintenance
Not only are traditional braces more obvious than Invisalign, they also require much more work to take care of. Having to brush and floss around brackets and wires can be tedious, but with Invisalign you can continue to take care of your smile as you always have. The clear plastic aligners are removeable, which means your daily oral hygiene routine doesn't have to change.
How to Find an Invisalign Provider
Even if you've decided that you want to straighten your smile with Invisalign, you need to find the right provider. To help you locate and choose the dentist who can best help you achieve your dream smile, you can do the following:
Call and ask—You don't have to sit and wonder whether a certain provider offers Invisalign treatment. You can contact them and get more details about their background and experience.
Read reviews and get recommendations—You can get feedback from patients who have worked with the provider before, helping you have confidence in their work before you even get started.
Search their website—If you look at the provider's website, they should have a dedicated page to Invisalign treatment. That way you know they're serious about offering that particular service.
Ultimately, choosing to correct you misaligned smile with Invisalign can be a lifechanging decision, but you don't have to make it alone. Visit with a qualified provider, and they can guide you through the entire process from the initial consultation all the way through the end of treatment, giving you the smile you've always wanted.
About the Practice
At Premier Dental Care, we take pride in the quality of our work. Dr. Farshad Bakhtyari and Dr. Pooyan Refahi are both highly experienced and trained dentists who can help patients with either traditional orthodontic treatment or Invisalign in Herndon, depending on individual needs and goals. If you would like to see if you are a good candidate for Invisalign, you can schedule a consultation at Premier Dental Care through our website or by calling 703-860-8860.