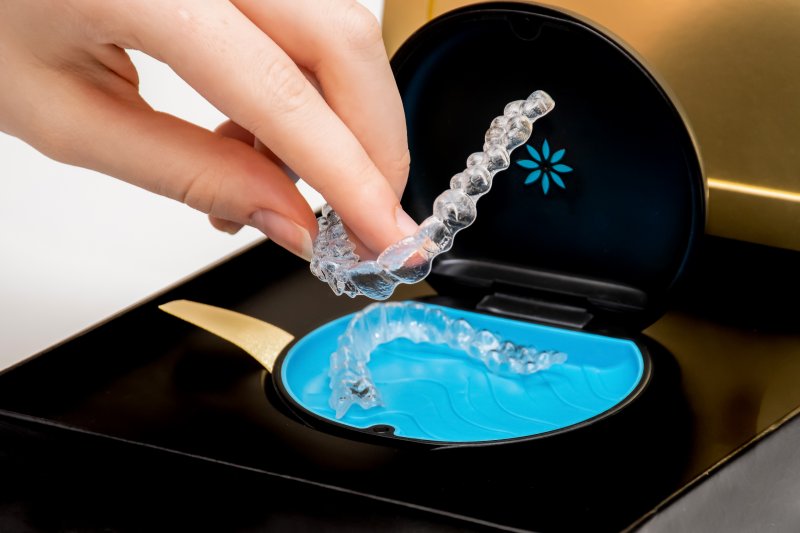 If you have crooked or misaligned teeth, you're probably looking for ways to achieve the perfect smile you've always wanted. Nowadays, you can subtly move your teeth into more ideal positions with clear aligners. Even though at-home solutions can seem tempting (especially if you're on a budget), you'll ultimately be better off investing in Invisalign treatment from your dentist in Herndon. To find out why, simply keep reading!
You Get More Bang for Your Buck
Are you considering getting some "do-it-yourself" clear aligners because it's more affordable? Most people do because they believe it'll reduce their out-of-pocket expenses. However, you may end up paying much more than you think in the long run. The initial upfront cost is lower than Invisalign treatment, but that doesn't include additional trays or other interventions. Even though Invisalign has a higher price tag, it includes dental visits and all associated monitoring throughout the process. That means there are no hidden surprises while your treatment plan follows the recommended course. With Invisalign, you're guaranteed a better overall value for the money spent.
Guaranteed Dental Supervision
One of the biggest disadvantages of at-home orthodontic solutions is that you won't receive in-office dental supervision during the course of treatment. Instead, they rely on the patient to send in photos and updates combined with remote checkups. If there are any problems or adjustments that need to be made, you'll have to be the one to alert your remote dentist. Alternatively, in-office Invisalign treatment allows the process to continue without interruption or delay. If your dentist notices any abnormalities, they can address them immediately. Not only does this mean faster treatment time, but they can catch and treat oral health issues during the early stages.
Dental Organization Approval
Invisalign is recommended by all major professional dental organizations, but at-home orthodontic solutions are not. In fact, the American Association of Orthodontists (AAO) has issued a consumer warning about all direct-to-consumer orthodontic companies. The American Dental Association has also strongly discouraged the use of all do-it-yourself orthodontics. Both organizations feel that dental care should be supervised by a trained professional.
Complex Orthodontic Cases Are Not a Problem
Most direct-to-consumer orthodontic companies tell customers that those with extensive dental needs or a history of poor oral health should not use their aligners. If additional care is necessary, the clear aligners will not be successful in achieving the desired results. On the other hand, Invisalign uses products that can easily treat some of the worst misalignment cases. With this trusted method, you can rest assured that you're getting the right treatment for your needs and goals.
Are you ready to start your journey towards a straighter smile? Contact your dentist in Herndon and ask about Invisalign. With their help, you can achieve the look you've always dreamed of!
About the Practice
At Premier Dental Care, we provide exceptional, personalized, high-quality dental services that the entire family can enjoy. Our highly skilled and dedicated team is passionate about helping every patient achieve optimal oral health. If you have misaligned teeth, we offer orthodontic solutions to give you a straight smile you can proudly show off. Visit our website or call (703) 860-8860 to schedule a consultation.